'A pound shop stopped me buying scissors'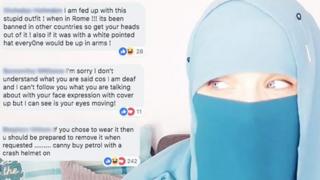 A woman who converted to Islam and chooses to wear a full face veil has challenged the misconceptions made about her choice.
Aisha Murray grew up in Glasgow and became a Muslim 14 years ago. Seven years ago, she made the decision to wear the niqab.
The outspoken Glaswegian has encountered many reactions to this choice, including that of former Home Secretary Boris Johnson.
The teacher has not changed her mind about wearing the veil, but she is trying to change the minds of those who feel strongly against it.
Boris Johnson's recent comments about the burka have re-ignited debate over the face veil.
The politician was accused of Islamophobia after saying Muslim women wearing burkas "look like letter boxes".
After giving her response to Mr Johnson's comments, Aisha has made a film about her experiences for BBC's The Social trying to dispel the myths and inaccuracies of commonly-held misconceptions.
But Aisha, a teacher, says his comments meant nothing to her.
'Morals and manners'
She told BBC Radio Scotland's Mornings with Kirsty Wark: "I wasn't personally offended.
"I am a very confident hard-working mother, student, teacher and content creator and it will take a lot more than a very old and dated postbox joke to affect me.
"What I was concerned about was how some vulnerable people would interpret it. People who have misconceptions about Muslim people, or perhaps a girl who wants to stop wearing the scarf or the face veil. Comments like these have a negative effect on communities."
Aisha wears the veil for herself, and herself alone: "I wear the niqab for many reasons. I don't believe it's mandatory for women to wear it. For me it is an act of worship. It helps me be more conscious so that my actions are always displaying the best of my morals and manners.
"Unfortunately we live in a world where women are judged on a daily basis on how they look and this has been happening for generations.
"I made a choice to take back that power and give it to myself.
"So now I can only be judged on the things that I say – my mind, my manners, my morals and my intelligence."
Aisha has tried to break down the four biggest misconceptions about the full face veil.
Here she shares her points.
1. We refuse to take the face veil off when it comes to security
"This is not the case – we will happily take the face veil off when it comes to security whether that be in an airport, in a bank, or in my case, buying a pair of scissors in the pound shop.
2. We refuse to remove our face veil when it comes to people with special needs
"It is a genuine concern for a lot of people. We are not arrogant. We are not out of touch. We will accommodate such needs when necessary. If someone relies on seeing my face to communicate, I will lift my veil for them.
" I'm not inconsiderate. I do either lower my veil or remove it completely for them. If I need to show my face to communicate I will do that."
3. We have been forced to wear this by our husbands, fathers, brothers
"We are not forced to wear the face veil by any person. In fact, more women who are looking to put on the face veil are often urged by their families not to do so because of safety issues. In terms of other countries who use the face veil to oppress women. This is not permitted in Islam so therefore not from it.
"I am from the UK, my forefathers are from the UK, I am a convert to Islam. I became Muslim when I was 18 years old. I am not forced by anyone. I'm pretty sure a few members in my family would love to see me take it off but it all comes down to this. I should be the only one in control of what I choose to wear. Simple.
4. Muslim women wearing the face veil do not want to interact with the community
"We have to consider a few things with this one. First of all we have to consider everyone who is involved, so everyone in the community and everyone as individual. Not everyone likes to socialise and to be fair not everyone should be made to feel guilty about that. There's different reasons for why people are like that.
"But for the most part, as a Muslim, it is part of my religion to have a productive and active role in my community, whether that be interacting with my neighbours of doing something that helps develop and benefit the community as a whole.
"These are encouraged in our religion. It is time we started breaking the stereotypes and today I start with mine."