Nintendo games to appear on rival console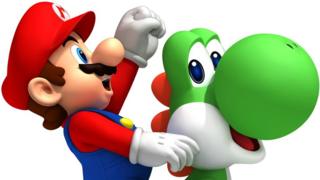 Nintendo is to release some of its popular games on a rival manufacturer's console for the first time in decades.
Some of the company's older games from the discontinued Wii console will appear on the Nvidia Shield set-top box in China.
Historically, Nintendo has rarely licensed its original games and characters to rival console-makers.
The Japanese gaming giant does not currently sell its latest console, Nintendo Switch, in China.
The video games market in China was valued at $24bn (£18bn) in 2016.
However, most people play on PCs or mobile devices, despite China relaxing its rules on the sale of foreign consoles in 2014.
Among the Nintendo games being made available on the Nvidia Shield are The Legend of Zelda: Twilight Princess, first released in 2006, and New Super Mario Bros Wii, from 2009.
Nintendo has not previously released the games for consoles other than its own devices. However, it has experimented with mobile games such as Super Mario Run and Animal Crossing: Pocket Camp.
The Wii titles to be rereleased for the Nvidia Shield will have their graphics upgraded to high-definition and be streamed through Nvidia's Geforce Now platform.
"Nvidia has an established partnership with Nintendo through the supply of its Tegra X1 processor for use in the Switch console. This content deal is an extension of this relationship and offers benefits to both parties," said Piers Harding-Rolls, from technology consultancy IHS Markit.
"The deal allows Nintendo to test its older content on the Chinese consumer and to accrue useful data on usage of those games. For Nvidia, it gives the platform some exclusive and well known games content to kick start its sales in the territory."