Honour of Kings uses facial recognition to check ages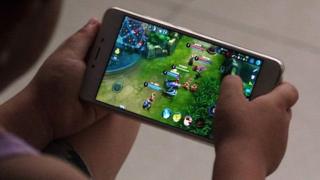 One of China's most popular video games is testing the use of facial recognition to check users' ages.
Honour of King's publisher Tencent announced the move at the weekend.
It said the trial would initially be limited to "thousands" of new players based in Beijing and Shenzhen.
The title has been criticised in local media over claims children have become addicted to it. But one expert questioned whether the test could be scaled up.
The mobile app resembles League of Legends and pits players against each other in multiplayer online battles set in a fantasy world.
Under pressure from local regulators, Tencent introduced restrictions in July 2017 to limit under-12s to one hour of gameplay a day and 13- to 18-year-olds to a maximum of two hours.
Last month, the company added a real-name registration system to encourage players to keep to the rules.
The facial-recognition test appears to be a further effort to discourage young players from trying to circumvent the time limits.
Tencent said a random selection of new players would be assigned to the test when they first signed into the game.
But it has not disclosed the technology it will use to carry out the scans or how it intends to cross-reference the resulting IDs.
Tencent highlighted that many users had previously voiced concerns about the idea of it using facial ID checks in games and said it would evaluate the results of the real-world trial "in depth".
Gaming crackdown
The Chinese state is currently engaged in a wider campaign to control video gaming.
In addition to concerns over addiction, there have been warnings the activity could be linked to rising levels of near-sightedness.
In August, the ministry of education announced plans to develop its own age-restriction system and to limit the number of online games available.
But one expert questioned whether the latest move would be a success.
"This test is an extension of Tencent's existing Youth Guardian platform, which allows parents to monitor gameplay time and uses facial recognition, but this goes a step further by comparing user images with government photo records," said Piers Harding-Rolls, from the IHS consultancy.
"It is inevitable that this sort of technology will hold some limitations especially for younger children that go through a lot of facial changes as they grow.
"However, facial recognition technology is improving all the time."