Wage growth fails to overtake inflation again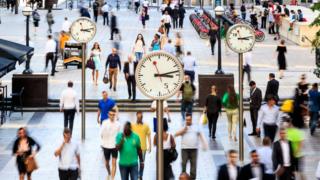 Wages in the three months to February remained unchanged from the three months to January.
Average earnings increased by 2.8%, which was weaker than forecast but still the highest since September 2015.
The ONS said when wages are compared with their new measure of inflation which includes housing costs (CPIH), average weekly earnings increased by 0.2% compared with a year earlier.
Inflation, as measured by the consumer price index, was around 2.9%.
The latest Office for National Statistics figures also show that unemployment fell by 16,000 between December and February to 1.42 million,
The unemployment rate of 4.2%, down from 4.3% in the previous quarter, is the lowest since the three months to May 1975.
The Bank of England has said it expects the fall in unemployment to start pushing up pay more quickly, which is the main reason why it has said it is likely to raise interest rates more quickly than it previously thought.
The number of people in work has reached a record high of 32.2 million.