Tory MP Craig Mackinlay denies playing 'fast and loose'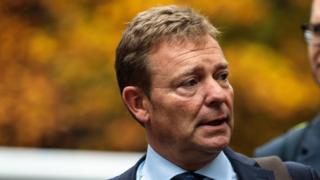 A Tory MP has denied he played "fast and loose" with election spending rules to win the seat of South Thanet.
Craig Mackinlay told Southwark Crown Court he "disagreed" with an accusation that he and two other defendants "knew exactly what was happening".
Prosecutor Aftab Jafferjee QC asked the MP whether he was "in a state of considerable ignorance" about the financial aspects of his campaign.
Giving evidence for a third day, Mr Mackinlay replied: "Yes."
Mr Jafferjee suggested that was not the case, and that Mr Mackinlay kept a "close watch" of what was going on in relation to that side of things.
"That's not true," Mr Mackinlay said.
In cross-examination, the prosecutor said: "It's a given that UKIP were the threat.
"You were fighting the seat to make sure that the main threat was overcome by you winning."
Mr Mackinlay, an accountant by profession, replied: "The Conservatives needed to win. I was the agent of the Conservatives."
He was asked if high profile visits to South Thanet from figures like then home secretary Theresa May and former chancellor George Osborne had benefitted his campaign.
The 52-year-old MP told jurors: "I don't think they advanced the campaign in any great degree, if you want my honest opinion."
On the former home secretary, Mr Mackinlay said he did not think she even knew what his name was, adding: "It actually took me away from the streets for a few hours."
He said the visits "served no purpose" and they were a feature of campaigning that he had "no choice" in.
Mr Mackinlay, his election agent Nathan Gray and party activist Ms Little deny involvement in false spending returns during the 2015 campaign.
The MP, from Ramsgate, Kent, denies two charges of making a false election expenses declaration under the Representation of the People Act 1983.
Ms Little, of Ware, Hertfordshire, denies three counts of intentionally encouraging or assisting an offence under the Serious Crime Act 2007.
Mr Gray, of Hawkhurst, Kent, denies one charge of making a false election expenses declaration.
Judge Mr Justice Edis has ordered jurors to acquit Mr Gray of a charge of forgery.
The trial continues.