Portuguese president mourns Westminster homeless man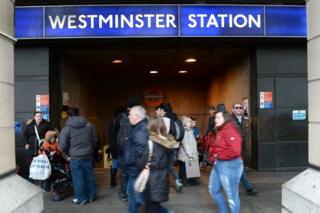 The Portuguese president has paid tribute to a homeless man found dead in a Tube station underpass near the Houses of Parliament.
Marcelo Rebelo de Sousa said the circumstances the unnamed Portuguese national died in were "inhumane".
Coroners in Westminster are compiling a report into the man's death, with more details to be released next week.
The government department responsible for homelessness said it will eliminate rough sleeping by 2027.
Mr de Sousa expressed his "solidarity" with all homeless people in a statement published on the president's website.
The man, whom is believed to have formerly worked as a model, died at Westminster Underground station on Wednesday morning.
A homeless charity who worked with him said his circumstances were "complex" but that he "enjoyed singing and regularly attended yoga classes".
Many MPs took to Twitter to call for action after the man was found "dead on Parliament's doorstep".
Heather Wheeler MP, the minister for homelessness, said: "Stories like this push me on to find solutions and work to eradicate rough sleeping for good."
Her department said it is providing more than £1bn in funding to "break the homelessness cycle once and for all" by 2027.
"In addition a new cross-government taskforce supported by a panel of experts will drive forward a new strategy that will make life on the streets a thing of the past," a spokesman for the Ministry of Housing, Communities and Local Government added.
About a quarter of the 4,751 people estimated to be sleeping rough in autumn 2017 were in London.