Plaid Cymru to end Labour Welsh Government co-operation deal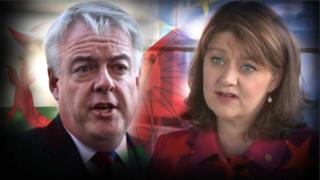 Plaid Cymru has ended its "compact" co-operation agreement with Labour.
It comes just days after the two parties agreed a deal to ensure Labour's budgets for this year and next would be passed by the assembly.
In a letter to Plaid members, leader Leanne Wood said the budget deal "represents a natural conclusion to the Compact".
First Minister Carwyn Jones said both sides were "amicable" and had agreed to "keep open lines of communication".
The compact had allowed Mr Jones to return to power after the 2016 assembly election.
Referring to the budget, Ms Wood said in her letter: "The two-year deal takes us to a position where we can produce a clear alternative in advance of the next Assembly elections.
"The commitments we have secured represent the green shoots of our programme for government. We must all work towards the goal of government if we are to see these foundations built upon."
'Stability'
In response, Mr Jones said: "Our conversation was amicable and we agreed that it was important to keep open lines of communication."
"From our viewpoint we believe the compact gave Wales some welcome stability at a time of great uncertainty caused by ongoing Tory cuts and the Brexit chaos in Westminster," he added.
In a tweet, Plaid Cymru AM Adam Price said the decision to end the compact had been made "before the summer".
Welsh Conservative leader Andrew RT Davies said: "People across Wales will see straight through this duplicity.
"By continuing to support Welsh Labour's budget in the absence of an agreement shows Plaid's support has never been cheaper," he said.
The post-election agreement in 2016 had been struck a week after the Senedd was deadlocked in a tied vote between Mr Jones and Ms Wood for the job of first minister.
The end of the compact will not bring down the Welsh Government.
Although Labour is two seats short of a majority in the assembly, it has the support of Lib Dem AM Kirsty Williams – who is a cabinet secretary – and independent AM Dafydd Elis-Thomas.
This gives the Welsh Government an effective majority of 31 of the 60 seats.