Party leaders take part in second TV debate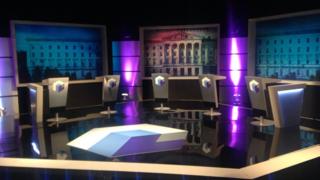 Leaders of Northern Ireland's five biggest political parties are taking part in their second live TV debate of the assembly election campaign.
The Democratic Unionist Party (DUP), Sinn Féin, Ulster Unionist Party (UUP), Social Democratic and Labour Party (SDLP) and Alliance are represented.
The programme, broadcast on BBC One Northern Ireland, started at 21:00 GMT.
Noel Thompson chairs the debate between Arlene Foster, Michelle O'Neill, Mike Nesbitt, Colum Eastwood and Naomi Long.
It comes ahead of polling day on 2 March.
The first debate, hosted by UTV a fortnight ago, was dominated by the fall out from the botched Renewable Heat Incentive Scheme (RHI).
In the UTV broadcast, party leaders also disagreed on Brexit and on the UUP leader's announcement that he would give his number two preference vote to the SDLP.