Only one convicted over 2017 'double voting' claims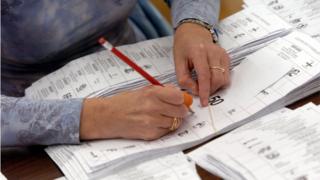 Hundreds of complaints about alleged double voting in the 2017 UK general election resulted in only one conviction, according to police data.
Claims made on social media that people had voted twice prompted more than 1,000 emails to the Electoral Commission and 60 letters from 47 MPs.
But only one person was convicted after pleading guilty to multiple voting.
He was fined. Two cases resulted in no further action, one was deemed not in the public interest to prosecute.
A fifth case remains under investigation, according to the Electoral Commission figures, which were released as it launched a poster and video campaign alongside Crimestoppers.
The Electoral Commission's analysis of cases of alleged electoral fraud in 2017 said a "significant amount" of correspondence had been received about claims people had voted twice.
But by January 2018, police forces supplied data to the commission suggesting the reports had been whittled down to five investigations.
An Electoral Commission spokesman said: "Following an electoral event, it's not uncommon for claims made by voters on social media to result in a large spike in enquiries where voters have questions or concerns about what they've seen or heard.
"The police take allegations of electoral fraud seriously, but allegations do need to be substantiated with evidence. The data provided to us shows the number of cases where the police considered they had enough evidence to investigate."
Wider analysis of cases of electoral fraud reported in 2017 found that eight suspects had accepted police cautions – four of which were about registration offences, one was about a false statement on a nomination form, two related to postal votes and one to the return of election expenses.
'Lack of awareness'
While 337 allegations of electoral fraud were made across the UK – the majority, 207 cases, resulted in no further action and a further 82 were "locally resolved".
"Based on the data recorded by police forces, there is currently no evidence of any large scale cases of proven electoral fraud relating to the polls held during 2017," the Electoral Commission analysis says.
But it notes that its own work on electoral fraud has found a "relative lack of awareness about whether activity might involve electoral fraud offences and reluctance to report allegations of electoral fraud to the police".
The commission has teamed up with Crimestoppers to launch a poster and video campaign ahead of May's local elections in England, explaining the different types of electoral fraud – from bribery and intimidation to "personation" – votes cast in someone else's name.
The crime reporting charity urges anyone who suspects somebody is committing electoral fraud to contact them "100% anonymously".
The Electoral Commission said some people do not realise that interfering with a relative's vote could be a criminal offence and that language barriers or misunderstandings about the UK's electoral system means some people are more at risk of electoral fraud.
Its chief executive Claire Bassett said: "No-one should feel pressured to vote a certain way. While proven cases of electoral fraud are rare, it remains a serious crime and those who commit it can be sentenced to time in prison."