Northamptonshire Council: Government takes over children's services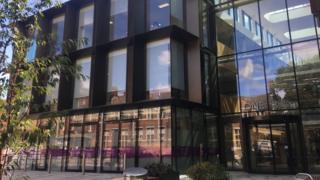 The government has taken over a cash-strapped council's children's services department after a report found people in its care were at "potential risk".
Earlier this month, a letter from Ofsted to the chief executive of Northamptonshire County Council said its social workers were "overwhelmed".
The government says the council's children's services is failing to perform "to an adequate standard".
The authority has twice banned itself from spending in 2018 amid cash issues.
A children's services commissioner has been appointed with the task of "securing immediate improvement in the authority's delivery of children's social care services".
Malcolm Newsam, who will take up the role, joins two other government-appointed commissioners at the county council.
Mr Newsam's previous appointments include a period as the commissioner for children's social care in Rotherham.
The Conservative-run council – which has committed to make £65m of cuts – will be scrapped in 2020, along with seven other Northamptonshire borough and district councils, to make way for two new unitary authorities.
On Thursday, it was announced that next May's elections for Northamptonshire have been postponed while a consultation on the future of the county's local government structure is taken out.
You may also be interested in:
Meanwhile, the government has given the county council permission to spend £70m of capital receipts – for example from the sale of assets like County Hall – to help balance its books.
In a statement, the Northamptonshire Commissioners said the decision "will enable Northamptonshire to pay off the deficit carried over from last year, and to restore a sensible level of reserves, all from within the Council's own financial resources".
However, the dispensation will not allow for the funds to be used to subsidise next year's budget.
Matt Golby, the council's leader, said the authority was now making progress towards greater financial stability.