National Audit Office asked to look into Motability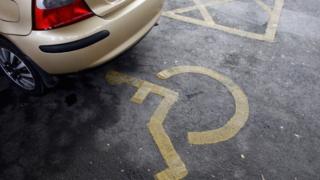 Work and Pensions Secretary Esther McVey has asked the National Audit Office to look into the finances and pay policy of the Motability charity.
It follows reports it has £2.4bn in reserves and pays its boss £1.7m.
The charity denies having built up "spare" money and says it has provided 4.5m vehicles to disabled people and their families since its 1977 launch.
Labour's John Mann, who raised the matter in the Commons, called the cash reserves and pay figures "grotesque".
He said there needed to be an "urgent review" into "this registered charity, which is funded by a direct grant by the taxpayer through the government".
Motability response
Ms McVey, answering Mr Mann's urgent question in the House of Commons, told MPs: "Motability was originally set up 40 years ago with cross-party support. It has done much good in that time.
"But come today, anybody looking at the size of the reserves and pay packages would question the direction Motability has taken in allowing this to happen.
"And with the current focus on corporate governance issues and the use of public money, I have today asked the National Audit Office to give consideration to undertake an investigation into this matter."
After the initial report in the Daily Mail earlier this week, Motability issued a statement denying having a "spare" £2.4bn, saying that the money is not held as cash but is used to buy cars.
"This reduces the amount of borrowing required… underpins the schemes financial stability, protecting it from the business risks it faces, particularly in relation to used car values," it said in the statement.
On chief executive Mike Betts' pay, the charity said it was "reviewed against the market to ensure that it is both competitive over the long term and to ensure that any rewards are related to performance especially in relation to the quality of service provided".
The statement said Motability had an annual turnover of £4.2bn, manages a fleet of vehicles worth £6.5bn and buys and sells 200,000 cars each year.