MPs quit Commons group because Speaker Bercow chairs it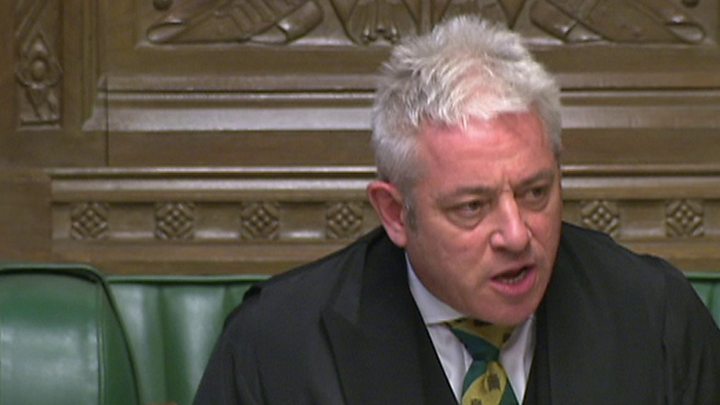 Three MPs have quit a committee chaired by Speaker John Bercow in light of a report into bullying in the Commons.
The Speaker has been under pressure after Dame Laura Cox's report said radical change was needed in the culture of the Commons.
Tories Will Quince and Mims Davies said they could not stay on the Reference Group on Representation and Inclusion while it was chaired by Mr Bercow.
Mr Bercow said he regretted their resignations.
And he said Dame Laura's report had highlighted "some of the most significant challenges women face in our parliamentary culture".
The inquiry said "disturbing" cases of bullying and harassment had "long been tolerated and concealed", and questioned whether things could improve under the current senior administration of the Commons.
Mr Bercow, who is the highest authority of the House of Commons, is himself facing bullying accusations, which he denies.
Mr Quince, the MP for Colchester, said he had quit the representation and inclusion group "with great regret", adding: "As much as I personally like John, I have reluctantly reached the conclusion that he is not the right person to resolve the numerous and serious issues raised."
Ms Davies, who represents Eastleigh, added: "I felt that remaining on this currently did not sit right following Dame Laura Cox's Report, and as this committee is chaired by the Speaker, I sadly felt in a difficult position. I did not take this decision lightly."
Another member, Tory MP Anne Milton, has also resigned.
'Cultural issues'
The Reference Group on Representation and Inclusion was set up to come up with ways to make Parliament "truly representative, transparent, accessible, accountable and effective in all its functions".
The House of Commons Commission is to meet on Wednesday to consider Dame Laura's report.
Mr Bercow, who has faced calls to quit following the publication of the report, has called for an independent body to be set up to investigate allegations.
His spokeswoman said he thanked the three MPs for their contributions to the reference group, saying it had made "some good progress making Parliament a more inclusive workplace".
"Dame Laura Cox's report has highlighted some of the most significant challenges women face in our parliamentary culture," the spokeswoman said.
"In the spirit of an independent approach, the Speaker feels it is right to reflect on the best means of tackling these cultural issues via the House's response to the Cox report.
"He will therefore consider the future of the reference group following the commission meeting tomorrow."