May and Varadkar to discuss Brexit plans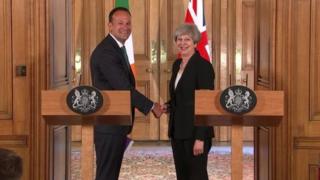 Prime Minister Theresa May is to meet Taoiseach (Irish PM) Leo Varadkar in London for talks on Brexit and Northern Ireland's political deadlock.
Mr Varadkar gave Mrs May's speech in Florence on Friday a cautious welcome.
Mr Varadkar said her proposal for a post-Brexit transitional period was a step in the right direction.
Mrs May said there should be a two-year transition period after the UK leaves the EU in 2019, during which trade would continue on current terms.
In her speech on Friday, the Prime Minister offered to continue paying into EU coffers during this transition period to ensure the bloc is not left with a budget black hole.
Mrs May restated the UK's position that there would be no hard Irish border after Brexit.
Although the UK will be leaving both the customs union and the single market, she said that both the UK and EU had "stated explicitly" they would not accept any "physical infrastructure" along the frontier.
In her first meeting with an EU leader since the Florence speech, Mr Varadkar is expected to reiterate the cautious welcome he gave to elements of the speech.
However, it is believed he will repeat his concern that a satisfactory solution on the border issue has not been presented, Irish broadcaster RTE reports.
Northern Ireland has effectively been without a devolved government since January.
Its institutions collapsed amid a bitter row between the DUP and Sinn Féin about a botched green energy scheme.
Several rounds of talks have failed to reach an agreement.
The DUP has welcomed comments from Sinn Féin President Gerry Adams indicating that republicans are committed to the restoration of devolution in Northern Ireland.
Mr Adams told a republican commemoration event that a deal to restore the Stormont executive was possible.