Jeremy Corbyn: Labour is united around economic plan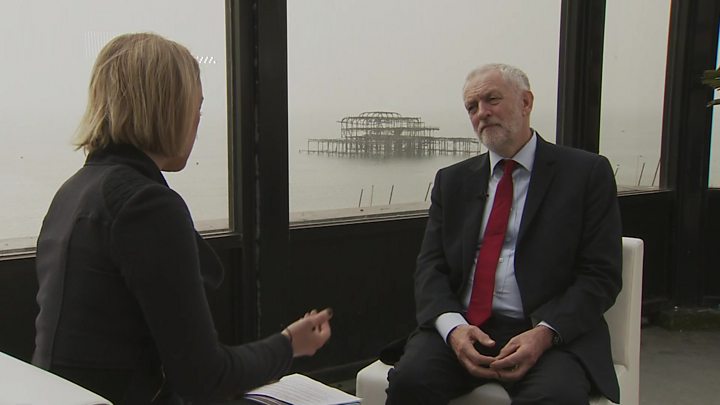 Jeremy Corbyn says the Labour Party has united around his "different" economic strategy.
"There's a pretty good mood around," he told the BBC in an interview at the party conference in Brighton.
"The party actually is pretty united around the basic principles."
He also promised "more details" on the party's flagship policies and defended the need for more borrowing to fund them, adding that Labour was ready for another general election.
Speaking to BBC political editor Laura Kuenssberg, Mr Corbyn also said shadow chancellor John McDonnell was "right to look at all these scenarios" after he suggested that there needed to be planning in case there was a run on the pound if Labour went into government.
Mr McDonnell, a key ally of Mr Corbyn's, said the party was preparing detailed plans for government in the event of it winning an election called at short notice, including "war-game-type scenario-planning" for events such as "a run on the pound".
In the interview, the Labour leader said if he became prime minister he would hope to take all PFI-funded public sector projects back into public ownership.
"I want to see public buildings developed and run by the public and funded by the traditional form of public investment and borrowing which is actually cheaper, more secure and more efficient than PFI contracts," he said.
Speaking on Monday, Mr McDonnell said "wasteful" PFI contracts could cost the public purse £200bn over the coming decades while yielding "enormous profits" for the private sector. He pledged to end this "scandal" by "bringing them in-house".
But shadow health secretary Jon Ashworth has since suggested many of these contracts could be renegotiated rather than bought out.
Asked if there were mixed messages from senior figures on the issue, Mr Corbyn said this was a "fair point" and conceded the last Labour government had used PFIs "very heavily".
But he added: "Jon Ashworth's point is that some of the health PFIs are linked to local government and in some cases, in Northumbria Arch, a council owned property company has bought out some PFIs. I have no problem with that…. Jon is quite right. Be slightly cautious on some of the health PFIs."