Islamic State 'Beatles' duo: UK stance 'a rare decision'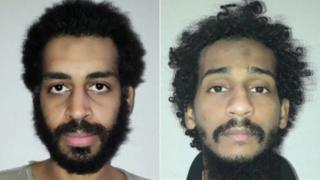 The UK's opposition to the death penalty has not changed, the security minister has said, amid questions about the fate of two Islamic State suspects.
Ben Wallace said a "rare decision" had been taken "not to require assurances" over the death penalty in the case of Alexanda Kotey and El Shafee Elsheik, from London.
Labour's Diane Abbott said the UK was abandoning a "principled opposition".
The duo were captured in Syria and could be sent the US for trial.
They are accused of being the last two members of an IS cell dubbed "The Beatles", because of their British accents. They became infamous for their executions of Western hostages.
After the pair were caught in January, they complained they would not get a fair trial because the UK government had stripped them of their British citizenship.
For years Britain sought assurances from foreign governments that the death penalty would not be used in cases where the UK provided information or extradited suspects.
But, in a letter leaked to the Telegraph, Home Secretary Sajid Javid said he would seek no assurances about Kotey and Elsheik's sentences.
Asking an urgent question on government policy in the Commons, shadow home secretary Ms Abbott said it was not possible to be a "little bit in favour" of the death penalty.
Describing the UK stance as "abhorrent and shameful", she called on ministers "even at this late stage to reverse this decision".
But Mr Wallace maintained ministers had complied with the European Convention on Human Rights and international law in relation to the cases.
He said: "The crimes that we are talking about involve the beheading and videoing of those beheadings of dozens of innocent people by one of the most abhorrent organisations walking this Earth.
"And simply to say if we were unable to prosecute them in this country, that we should simply let them free to roam around the United Kingdom… is simply bizarre and not justice to the victims."
Earlier, Number 10 said it was "a long-standing position of the government to oppose the death penalty in all circumstances as a matter of principle".
But it added that in this case it was "a priority to make sure that these men face criminal prosecution".