Diane Abbott: Listen to CBI and NHS' on Brexit migration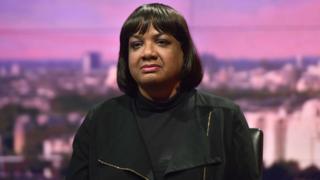 Public services and businesses would be in a "terrible position" if there was a big reduction in migration post-Brexit, Labour's Diane Abbott has told the BBC.
The shadow home secretary said the CBI, health and social care say "they need these European migrants – and we have to listen to them".
Labour voters were concerned about "the chaos" of Brexit negotiations rather than freedom of movement, she said.
Migration was a key issue during the EU referendum campaign.
Ms Abbott was asked on the Andrew Marr show about her front bench colleague Sir Keir Starmer's interview last week, in which he agreed that Labour backed "easy movement" of workers after it had left the EU's single market.
'Less bureaucracy'
She said "most people agree" that some of the bureaucracy around migration had to be reduced.
"I think that's what we were referencing when we talked about easy movement – less bureaucracy; it's good for migrants but it's also good for business".
Asked whether EU nationals would need visas to work in the UK under a Labour government, she replied: "We will have to see how this negotiation goes."
She said there would be "fair rules and a reasonable management of migration" after Brexit if Labour were in power, to replace freedom of movement, which ends when the UK leaves the EU's single market.
Asked if she expected the number of EU migrants would reduce after Brexit under Labour, she said: "The health service, they're very worried about a collapse in the number of EU migrants coming here.
"Social care would be in a terrible position…. finance, education, so we will be listening, as the government should be listening, to what business and the public sector says about its needs for labour.
"The reality is that business, the CBI, the Institute of Directors, but also health, education and social care; they say that they need these European migrants and we have to listen to them."
Immigration Minister Brandon Lewis told BBC Radio 5live's Pienaar's Politics that the government had commissioned work on the impact of EU labour on the British economy with the aim of ensuring business could access the skills needed – and improving the skills of British workers.
He said the UK needed to both "get control of our borders" and improve skills.
But he said that while immigration had been a key issue in the Leave vote, people understood that a Brexit deal had to be reached "that doesn't damage our economy".
The Conservatives' aim since 2010 has been to reduce net migration to below 100,000. Neither Prime Minister Theresa May nor her predecessor, David Cameron, have come close to meeting that target.
The Office for National Statistics reported last month that net migration is estimated to have fallen by nearly a third to 230,000 in the year to June 2017. In this 12-month period, 572,000 people arrived in the UK, and 342,000 emigrated.
Immigration specifically fell by 80,000 people over the year – and three-quarters of that drop was down to fewer EU citizens coming to live in the UK, figures showed