Corbyn-critic John Woodcock reported to NEC by local party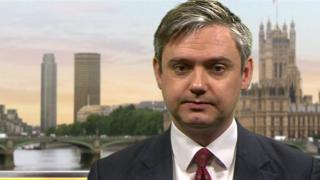 Barrow-in-Furness Labour Party has written to the party's ruling NEC to ask what it should do about comments by its MP John Woodcock.
The local party is known to be unhappy with Mr Woodcock's repeated attacks on Jeremy Corbyn's leadership.
Mr Woodcock – a long time critic of the Labour leader – has clashed with him in recent weeks over Russia and anti-Semitism.
The MP was also known to be angry about the sacking of frontbencher Owen Smith.
Asked about his local party's letter to the NEC, Mr Woodcock told BBC News: "I have not yet had a response to my request to be told what action has been taken or why it has been publicised in this way, so I cannot comment further.
"Nothing will distract me from standing up for our community or speaking out when I am concerned for the country's security."
Mr Woodcock said the first he had heard about the complaint to the NEC was when he received an e-mail that had been sent to all Labour members in Barrow-in Furness.
Trident jobs
In it, constituency secretary John Clark said: "I have been asked by the Barrow and Furness Executive Committee to let you know that we have written to the Labour Party secretary and the National Executive Committee for advice concerning John Woodcock's recent public comments."
In a recent Commons debate, Mr Woodcock challenged Mr Corbyn when the Labour leader said he had been a critic of the Russian government for the past 20 years, telling him: "It's just not true."
Mr Woodcock was one of a number of Labour MPs to attend a demonstration in Parliament Square calling on Mr Corbyn to do more to stamp out anti-Semitism in the party.
He called the Labour leader's subsequent decision to attend a dinner organised by a "radical" Jewish group "irresponsible and dangerous".
He is also thought to have been angry about the sacking of shadow Northern Ireland Secretary Owen Smith over his call for Labour to back single market membership after Brexit and another referendum.
Mr Woodcock MP is a vocal supporter of the Trident nuclear weapons programme, which is linked to jobs in his constituency at the BAE submarine yard.
He retained his seat at last year's general election with a wafer-thin majority of 208 – after falling out with his local party for saying he did not want Mr Corbyn as prime minister.