Call to raid HS2 budget to fix potholes in roads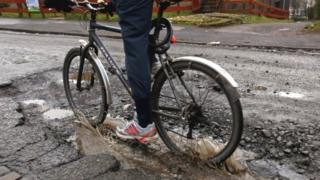 Some of the £42bn earmarked for the HS2 high speed rail link should be spent on fixing potholes in roads to prevent cycling deaths, a Labour MP has said.
Catherine West said the government had got its priorities wrong and should be spending more on roads in urban areas.
She said councils had been starved of cash for repairs.
The number of cyclists killed or seriously injured because of badly maintained roads has more than trebled since 2007.
In 2007, there were two fatalities and 15 serious injuries where the state of the road was a "contributory factor" – compared with four fatalities and 60 serious injuries in 2016, according to figures obtained by Ms West through a Parliamentary answer.
In total, 22 cyclists died and 368 were seriously injured because of poorly maintained roads between 2007 and 2016, the Department for Transport figures say.
But campaign group Cycling UK believes the statistics do not tell the full story because they only cover incidents where police attended the scene – and not all cyclists report injuries to the police.
"Cycling UK is incredibly concerned to see what is clearly a trend on the up showing more people being killed or seriously injured while cycling, all because our roads are in a shocking state," said campaigns director Simon Jones.
"Unfortunately for cyclists if they hit a pothole, then it's not just a costly repair bill but also a strong possibility of personal injury or in the worst cases death."
The charity says the government should not spend any money on new motorways or trunk roads until has fixed existing roads.
In 2015, the government launched a £6bn fund to improve local roads outside London over seven years, with £296m of that going to local authorities this year to fix potholes.
But Cycling UK says this is half of what is needed.
Ms West said the estimated £42bn earmarked for the high speed rail link between London, Birmingham, Leeds and Manchester, should be raided to fix roads.
"Getting just 1% in savings from HS2, which has quite a big budget, would make a difference," she told BBC News.
The MP for Hornsey and Wood Green, in North London, said the government would never be able to meet its clean air targets unless it made cycling to work safer for people living in "big cities".
The Department for Transport said more people had taken up cycling during the period covered by the death and injury statistics, with annual kilometres covered increasing from four billion to six billion.
It launched an urgent review into cycle safety in September, which is due to report shortly, with a possible new offence of causing death by careless or dangerous driving.