Boris Johnson plays down fears of Brexit betrayal over customs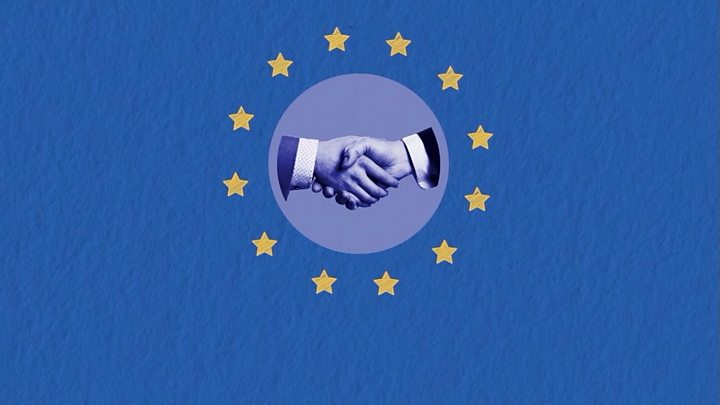 Brexiteers do not need to worry about a "betrayal" over the UK's customs ties with the EU, Boris Johnson says.
Mr Johnson said Theresa May would be "true to her promises" and deliver a deal that meant there was no need for ministers' "backstop" plan.
The backstop would see the UK match EU customs tariffs after 2020.
But it will only apply if an alternative arrangement cannot be found on customs that avoids a hard border in Northern Ireland.
The UK is leaving the EU in March 2019, which will be followed by a temporary transition phase until the end of 2020.
But ministers have yet to agree what they want to replace the UK's membership of the EU's customs union, which allows for tariff-free trading between members.
With no decision reached between the two alternative proposals the UK is considering, senior ministers signed off on a third, temporary, "backstop" option – which government sources say is very unlikely to be needed – at a meeting last week.
The government says it would allow the UK to sign and implement its own trade deals, something which it cannot do in the customs union.
But some Brexiteers who want a clean break from the EU fear it could turn into a long-term arrangement – last week backbench MP Jacob Rees-Mogg warned that people did not vote for a "perpetual purgatory".
The EU has put forward its own "backstop" which would effectively keep Northern Ireland in large parts of the customs union – a proposal Mrs May has said is unacceptable because it would undermine the "constitutional integrity" of the United Kingdom.
Speaking to reporters during a tour of Latin America, Mr Johnson – who led the campaign to leave the EU in 2016 – said: "Brexiteers fearing betrayal over the customs backstop must understand that the PM has been very clear that neither option is an outcome we desire – we want a deal with the EU and she will deliver it.
"I'm convinced that the prime minister will be true to her promises of a Brexit deal that sees Britain come out of the customs union and single market, have borders as frictionless as possible, reject European Court of Justice interference, control immigration and free to conduct unhindered free trade deals across the world.
"We must now give the prime minister time and space to negotiate this Brexit vision."
None of the UK's customs proposals have been agreed with the EU yet.
Most Brexiteers are against Mrs May's preferred option of a "customs partnership", under which the UK would collect tariffs set by the EU customs union on goods coming into the UK on behalf of the EU.
The alternative proposal would rely on technology and advance checks to minimise, rather than remove, customs checks. The EU has expressed doubts about whether either option would work.
Mr Johnson's five-day visit, taking in Peru, Argentina and Chile, is designed to pave the way for post-Brexit deals.
"Already during my time in South America I've been bowled over by the optimism and excitement from nations keen to forge deeper ties and new trading relationships with the UK," he said.