Welsh scientists hunt down the latest flu strains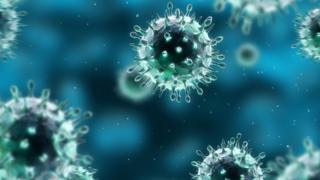 Welsh scientists are leading the world in identifying the flu strains that will circulate in the UK and Europe this winter.
Samples taken from patients in hospitals and surgeries across the country are being examined.
The speed of the analysis means Wales is at the forefront of the global mapping of flu as it progresses.
The DNA sequences of the virus can now be identified within 24 hours by researchers in Cardiff.
This means Rhyl, Neath, Penarth and Swansea sit alongside Hong Kong and New Mexico as locations providing the latest data to scientists tracking how flu spreads and evolves across the globe.
The hope is to be able to predict more accurately the strain of flu which develops – and help towards producing a vaccine for next year's flu season.
You might be interested in these stories:
Dr Tom Connor, bioinformatics lead for the Public Health Wales' pathogen informatics unit, said the majority of samples submitted so far have come from Wales.
"That's particularly important because we're early on in the season and need to understand how flu will change and evolve," he said.
"Colleagues in the US and Switzerland have been very impressed."
Joanne Watkins, biomedical scientist at the unit, based at the University Hospital of Wales in Cardiff, added: "To be able to look at the RNA – the chain of cells which carries genetic information about viruses – we can see what is circulating in Wales, we are able to identify if the vaccine is going to be successful in reducing the virus in the flu season."
Dr Connor added: "Most of the cases we've seen so far are H1N1 – a particular type of influenza – and it gives us an idea of how the flu might evolve over the course of this season but we can also feed that information to global databases, which help inform vaccine development."
The opportunity to have an impact on a worldwide scale was "phenomenal", he added.
What does it tell us so far?
H1N1 is likely to be the predominant strain circulating this winter – a strain that has a bigger impact on younger patients, who are likely to be more able to fight off the disease.
This year's flu vaccine contains a "very good genetic match" to that strain but there are no guarantees.
The samples will continue to be mapped and the World Health Organisation (WHO) will work out in January what need to go into the vaccine for the next flu season. It usually takes six months to produce.
Last year was one of the most challenging flu seasons in almost a decade, while excess winter deaths almost doubled in Wales.
This was largely because one of the main types of flu circulating was the H3N2 strain, which had a greater impact on more vulnerable and elderly patients.
Last year's vaccine also was less effective against that strain.
It led to more deaths and extra pressure on NHS services like GPs and A&E departments.
Developing better ways of tracking and analysing flu is one of several priority areas for the Public Health Wales team – after receiving funding as part of the Welsh NHS genomics for precision medicine plan.
Catherine Moore, consultant clinical virologist, is hopeful that one day we might develop better vaccines.
"Flu tends to change and we'll always have this constant battle between our immune response and the virus wanting to survive," she said.
"We might not have vaccines which last for life but for a longer period of time and you might only need a booster very few years, depending on how the virus is going."