Royal Cornwall Hospitals Trust patients 'died waiting for care'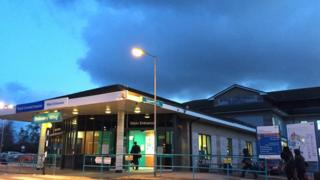 Patients waiting for heart treatment have died and those waiting for ophthalmology care have lost their sight at Cornwall's main hospital, according to a report.
NHS Improvement has placed Royal Cornwall Hospitals NHS Trust in special measures after an inspection from the Care Quality Commission (CQC).
It said patients suffered harm as a result of waiting too long for care.
The trust's chief executive has apologised.
Inspectors visited Royal Cornwall Hospital in July, after an earlier unannounced inspection found services had failed to improve since 2016.
The trust was told to make a number of immediate improvements after concerns were raised about safety in the maternity and paediatric emergency departments and long waiting lists in cardiology and ophthalmology.
'Complete blindness'
In cardiology, 554 patients suffered delays waiting for appointments between December 2016 and June 2017. Two patients died of cardiac-related causes while on the waiting list.
Inspectors said: "While it is not possible to say the deaths were directly linked to the delay, the trust reported it was highly likely."
In ophthalmology, inspectors said long waits for treatment had caused harm to at least four patients "who had suffered partial loss of vision or complete blindness as a result".
Inspectors also identified serious problems in maternity, with unsafe staffing levels and inadequate neonatal life-support training.
---
Analysis by BBC Political Reporter Tams in Melville
There's been a long period of instability at board level at RCHT, and various critical inspections and warnings over at least three years.
Now, the Care Quality Commission is basically saying enough is enough – and that the people of Cornwall deserve better.
It says during the latest inspection in July, and in previous visits, it has found persistent evidence of care that falls below standard – and that it's clear these are not isolated lapses.
Worryingly, it also highlights some patients have been put at risk.
---
The chief inspector of hospitals, Prof Ted Baker, said people in Cornwall were entitled to safe, effective, compassionate and high-quality care.
He said inspectors repeatedly found "persistent evidence of care that falls below those standards". As a result, patients had been "let down" with some "placed at risk".
But he paid tribute to staff at the trust, whom inspectors found to be caring and compassionate.
RCHT chief executive Kathy Byrne said she took the CQC report "very seriously" and the trust was "responding swiftly and effectively to every one of the CQC recommendations".
She said: "I want to apologise to any patient who has waited too long for treatment or nor received the very best care."