Rescue dog gets 'new lease of life' with 3D printed leg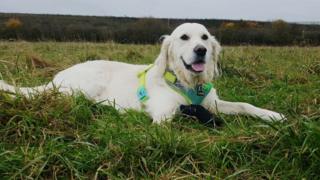 A dog which could hardly walk has been given a new lease of life after a 3D printed leg was made for him.
Rescue dog Duke, an Irish retriever, was born with a birth defect in his front right leg and faced having it amputated.
But he is now running around after Swansea printing firm CBM made him a leg similar to blades used by Paralympians.
New owner Phil Brown, from Bristol, said it had been "life changing".
When Duke was found abandoned by the Irish Retriever Rescue (IRR) charity in Ireland in 2016, his paw was deformed and he could not walk on all fours.
He was taken to the pound and rehomed with foster owners the Browns, who have since adopted him as their own as they could not bear to part with the loveable pooch.
After a massive fundraising campaign by the charity Duke has been fitted with a state-of-the-art prosthetic after narrowly avoiding having his foot amputated.
His new owner said Duke, who is now three, was delighted by his new "super leg" which meant he was walking on four paws for the first time.
Mr Brown, who owns other dogs which Duke is enjoying playing with, said: "He had a very tough start in life.
"This is an absolute life changer for him, it really is. He can now walk on it, he can now run at a slow speed."
Mr Brown said the three-dimensional leg was about a year in a making, and a few months down the line Duke is getting so much use out of it he has already had to have it refurbished.
The leg was entirely printed out of a machine apart from a rubber foot, some Velcro and foam at the top to make it more comfortable for Duke.
CBM product designer Benjamin Alport said creating Duke's leg was a real challenge for the team, who worked with his new owner and a consultant orthopaedic surgeon on the design.
"We had to go down and assess Duke. We had to consider right down to the thickness of the hairs because you have to take into account the smallest things," he said.