Quarter of 14-year-old girls 'have signs of depression'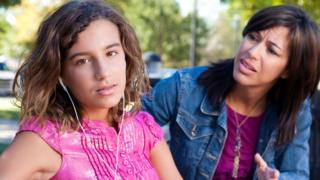 A quarter of girls and nearly one in 10 boys show signs of depression at the age of 14, say UK researchers.
The findings come from more than 10,000 young people who shared their worries and emotions.
Surveys with their parents, however, suggested many were not attuned to the true anxieties of their teenage sons and daughters.
Parents often underestimated daughters' stress and had concerns about sons that the boys themselves did not voice.
Lead investigator Dr Praveetha Patalay, from Liverpool University, said teenagers, and particularly girls, were facing more mental health difficulties than previous generations.
Many factors could be contributing, including exam stress and worries about body image, experts believe.
The Millennium Cohort Study survey suggests:
Teenage girls report more anxiety and depressive symptoms than boys
14-year-olds from poorer socioeconomic backgrounds are more likely to report depressive symptoms than peers from better-off families
Girls from mixed and white ethnic backgrounds are the most likely to report high depressive symptoms
Black African girls are least likely to report high depressive symptoms at this age
For boys, those from mixed and other ethnic groups are at greatest risk of depressive symptoms
Bangladeshi and Indian boys are the least likely to report these symptoms
Agreement between self- and parent-reported emotional symptoms of 14-year-olds is weak
Half of all cases of adult mental illness start by the age of 14, and it is important they are diagnosed and treated early.
Demand for specialist services is growing, but child and adolescent mental health teams are overstretched and turn away nearly a quarter of the young patients referred to them, says the National Children's Bureau, which has published the survey findings.
Its chief executive, Anna Feuchtwang, said: "With a quarter of 14-year-old girls showing signs of depression, it's now beyond doubt that this problem is reaching crisis point.
"Worryingly, there is evidence that parents may be underestimating their daughters' mental health needs.
"Conversely, parents may be picking up on symptoms in their sons, which boys don't report themselves.
"It's vital that both children and their parents can make their voices heard to maximise the chances of early identification and access to specialist support."
Dr Marc Bush, from the charity Young Minds, said: "We know that teenage girls face a huge range of pressures, including stress at school, body image issues, bullying and the pressure created by social media.
"Difficult experiences in childhood, including bereavement, domestic violence or neglect, can also have a serious impact, often several years down the line.
"To make matters worse, it can be extremely difficult for teenagers to get the right support if they're struggling to cope.
"That's why it's crucial that mental health services are properly funded, with a focus on early intervention."
Signs of depression
continuous low mood or sadness
feeling hopeless and helpless
having low self-esteem
feeling tearful
feeling guilt-ridden
feeling irritable and intolerant of others
having no motivation or interest in things
finding it difficult to make decisions
not getting any enjoyment out of life
feeling anxious or worried
having suicidal thoughts or thoughts of self-harming