UK singles chart to include videos watched on YouTube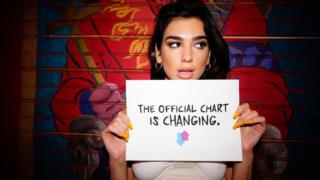 Since YouTube launched, the streaming site has seen 20 music videos break the two billion views mark.
Sitting at the top of the heap is Luis Fonsi's Despacito, which has been watched a staggering 5.2 billion times.
But none of these views ever counted towards the song's position on the UK singles chart.
That will change on Friday, when the Official Charts Company overhauls its rules to include music video streams and downloads for the first time.
"The way that music fans are consuming music is changing by the month," explains the charts' chief executive Martin Talbot.
"It seems anachronistic to be saying, 'we're only going to count the song', when it also has a video attached to it."
The move, which comes exactly four years after audio streams were incorporated into the chart, has been approved by record labels and BBC Radio 1, which broadcasts the chart every Friday.
The first chart including video streams will be published on 6 July.
Here's what you need to know about the change.
Unsurprisingly, pop stars love it
"It's definitely about time," says Years & Years singer Olly Alexander, who's making a video for every song on the band's new album, Palo Santo.
"So many people now just watch the video – they're not even aware of the song separate from it. The fact they'll be considered now for the charts is a good thing."
Dua Lipa is another singer who knows the power of a good music video – after the colourful, upbeat clip for New Rules turbo-boosted her career last year.
"The response to New Rules was so crazy and I am so grateful for it," she says, welcoming the chart changes.
"Video was really important to me in my career. It's another way, as artists, that we can get our music to our fans."
Henry Scholfield, who directed New Rules, adds: "I think its good for the stature of videos. They might become important again.
"What I'm hoping is that this will focus record labels on investing in videos, now that there's a tangibility to the result. If you suddenly have double the budget, you can do something extraordinary. And hopefully pay the crew decently."
There won't be a massive shake-up
Although 40% of all music streaming in the UK take place on YouTube, the changes won't have a drastic effect on the Top 40.
"This isn't going to be a handbrake turn," says Martin Talbot. "We're not going to suddenly see dozens of songs in the Top 20 that weren't there before."
In test charts, however, songs with viral videos got a small upgrade to their chart position.
"The most obvious recent one was Childish Gambino's This Is America," says Talbot.
"Everyone was talking about it for days and days – and the week that all happened, it might have been three or four places higher. That was it."
Some people wanted free streams thrown out completely
In Spain, France and Italy, music played on free, ad-funded services like Spotify and YouTube don't count towards the chart.
Although some in the UK were in favour of adopting that approach, the Charts Company decided against it.
"We thought that was too far," says Talbot.
"We recognise there are younger fans who maybe don't have access to credit cards, or low-income music fans who can't afford a subscription but will still listen on legitimate, ad-funded streaming services."
If you pay for music, you'll have a greater impact on the Top 40
A separate tweak to the chart formula will see paid-for music streams carrying more weight than "free" ones.
Under the current system, every 150 streams of a song count as one "sale".
From Friday, 100 streams via a subscription service will equate to one sale, but it'll take 600 "free" streams to have the same impact.
The move will benefit artists who restrict access to their songs on the free versions of Spotify and YouTube – but Talbot says it will also give new music a boost on the chart.
"Premium subscribers tend to access new music quicker," he says. "We found in our test charts that new music would enter maybe one place higher than before."
The changes were first discussed four years ago
The Charts Company first considered counting video streams back in 2014. But at the time, YouTube was the only place offering a full video service – and there were concerns over both its royalty payments and the clarity of its data (specifically, how long a user needed to watch a video before it counted as one "play").
"I can't really go into the details of specific services," says Talbot. "But any concerns we might previously have had, have been dealt with and sorted out.
"And, you know, that's why these things take a long time."
Most-watched videos in the UK (2017)
Artist
Song
1) Ed Sheeran
Shape Of You
2) Lusi Fonsi ft Daddy Yankee
Despacito
3) Clean Bandit
Rockabye
4) Ed Sheeran
Castle On The Hill
5) French Montana ft Sway Lee
Unforgettable
6) DJ Khaled ft Justin Bieber, Quavo & Chance The Rapper
I'm The One
7) Dua Lipa
New Rules
8) Jason Derulo ft Nicki Minaj & TY
Swalla
9) Little Mix
Touch
10) Camila Cabello ft Young Thug
Havana
Follow us on Facebook, on Twitter @BBCNewsEnts, or on Instagram at bbcnewsents. If you have a story suggestion email entertainment.news@bbc.co.uk.