Toronto Film Festival: Standing ovation for Robert Redford's acting swansong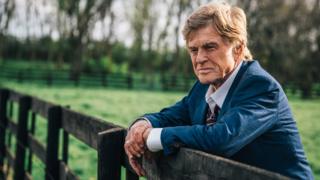 Robert Redford has received a standing ovation at the Toronto premiere of the swansong film that's being tipped to win him his first acting Oscar.
The Old Man and the Gun tells the fact-based story of a serial bank robber and jail escapee who spurns going straight.
Last month the Hollywood veteran said the film, out in the UK on 7 December, would be the last one in which he acts.
Redford, 82, won an Oscar for directing 1980's Ordinary People and received an honorary Academy Award in 2002.
The Hollywood veteran, known for such films as The Sting, Butch Cassidy and the Sundance Kid and Out of Africa, has said he now intends to focus on directing.
Casey Affleck, Sissy Spacek and singer Tom Waits also star in David Lowery's film, which had its first public screening in Toronto on Monday.
The film had its world premiere at the Telluride Film Festival in August and will be shown at the London Film Festival next month.
Speaking on Monday, Redford – co-founder of the Sundance Film Festival in Utah – said the film "fit with his sensibility."
"I've always been attracted to the idea of outlaws and I've played that out in my work a lot, so this just followed suit," he continued.
A key aspect of the film, based on the life of career criminal Forrest Tucker, is the combative relationship between Redford's character and a police detective on his trail.
Affleck plays the cop in question, having previously worked with Lowery on Ain't Them Bodies Saints and A Ghost Story.
"Casey represented the predator and I represented the prey," said Redford. "I've always been attracted to that dynamic.
"The prey knows the predator is going to come after him, and the predator knows he's going to eventually get him.
"But in that contest there's a mutual understanding that almost becomes a friendship. There's a weird respect that develops."
Nods to Redford's career are peppered through the film, which at one point includes footage from his 1966 thriller The Chase.
Lowery said he chose to shoot his feature on 16mm film, "to make it feel old-fashioned and made in a different era".
"It's easy to romanticise shooting on film, but there's a very tangible thing that happens when you hear film whirring through the camera," he went on.
"Everybody takes it a little bit more seriously, because they know something is being captured at that moment."
More from the Toronto Film Festival
Affleck, for his part, expressed gratitude to Lowery for repeatedly casting him in his films.
"David has seen me fall on my face and make a fool of myself in innumerable ways, and he's hired me again," said the Oscar-winning star of Manchester by the Sea.
"I'm like, 'I guess it's safe ground here – I can make an ass of myself and it'll be okay.'"
The idea for The Old Man and the Gun, and its title, came from a 2003 New Yorker article by David Grann, author of The Lost City of Z and Killers of the Flower Moon.
The former was made into a film in 2016, while Martin Scorsese is set to adapt the latter with Leonardo DiCaprio.
The Toronto Film Festival continues until 16 September.
Follow us on Facebook, on Twitter @BBCNewsEnts, or on Instagram at bbcnewsents. If you have a story suggestion email entertainment.news@bbc.co.uk