Saoirse Ronan flies high with Lady Bird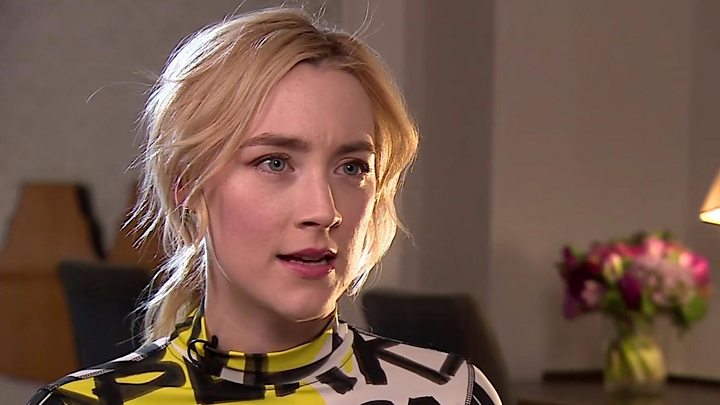 "She doesn't follow the pack. She's very driven – she has a strong sense of self."
Saoirse Ronan is talking about Lady Bird, the character she plays in the film of the same name – but she might as well be talking about herself.
It's seen her win her third Oscar nomination, the first having come when she was just 13, for Atonement. She's already won the Golden Globe for best actress for the role, sweetly FaceTiming her mum from the audience so she could watch too.
Lady Bird is Greta Gerwig's directorial debut and has seen her become only the fifth woman nominated for a best director Oscar. It's been almost universally praised for its realistic, but affectionate, look at the life of a teenager on the verge of leaving home and her relationship with her mother – and it's also up for best film.
No wonder then that Saoirse is looking so happy and relaxed. Her silver strappy platforms have been taken off and she's sat on the floor of a hotel suite, eating sushi. "Is it cold in here?" she ponders, going over to the thermostat before settling back on the carpet.
We talked to her about how Saved by the Bell was her inspiration for the role, why she wanted to change her own name – and why she's like Beyonce.
Congratulations on the Oscar nomination. What attracted you to the role of Lady Bird?
Lady Bird is very much her own person. She doesn't follow the pack. She's very driven, she has a very strong sense of self. One of the things that's unusual for female leads, especially in a film about a teenager, is that she believes in herself, you know?
Even if she doesn't know what she wants to be or what it is she wants to say, she knows she's going to do something. She's very committed to being herself.
The film is made up of these little moments between a family and friends and within relationships. It's set in a time for this young person, and for her family, where everything is moving a little faster than they'd like – and they can't quite catch up with it. That's just what the end of childhood is like. It's gone before you can fully grasp what it was that happened.
How was that similar, or not, to what it was like being a teenager for you?
The insecurity she had and the hope she had – that feeling of needing to leave home in order to find yourself – was something I could really identify with and really relate to. And the need for a strong friendship to anchor you.
When it came to the whole American high school experience – that was something I knew nothing about. The only thing I had to draw from was Saved by the Bell and Sabrina the Teenage Witch – American high school shows.
The way the mother-daughter relationship is portrayed is really realistic. How did you approach it?
You're watching two people that really love each other. There is a lot they share which is lovely and fun and it's sort of being overwhelmed by the mother's fear of change and the kid's desperation to get out and have something new.
They're just missing each other, just by an inch. They just don't get each other. It's not that either one of them is necessarily out-and-out wrong, but they don't understand how the other one could think in the way that they do. It only takes time and life and experience and moving away to understand the other one. More so for the kid, I think.
What did your mum think of the film – and what your on-screen mum Laurie Metcalfe was like?
She's the one that I call at the end of the day. She knows everything that's going on when I'm shooting because she's the one I speak to. She's like my real-life person when I'm doing that stuff.
She was really struck by Laurie and how authentic she was as a mother. She's not playing the movie mom or anything – she's a real mother. The great thing about Laurie is that so many people would read a role like that and say, 'she's unlikeable' or 'she's the villain'. But Laurie knew that there was a goodness, there's such a goodness there and it comes from such a good place.
Why are names so important in the film?
When I was younger, nobody had my name. Even in Ireland, some people hadn't even heard of that name before.
So for a while, I really didn't want it. I wanted to have a name just like everyone else – like Hannah, or Sarah. And then the older I got and the more sure I was of my personality and the kind of person I wanted to be, I was able to own it a little bit more.
I get why musicians and people like that would take on a name in order to empower them. I think that's what it can do. Lady Bird, was – for Greta and I – she's like an alter ego a little bit. She's like our Sasha Fierce – we're Beyonce, obvs.
You also hear about kids wanting to be called Spaceman or what was the one Phoebe had in Friends – Princess Consuela Banana Hammock? [She cracks up laughing at this point]
What was it like working with Greta for the first time?
I was a really, really huge fan of hers. Getting to meet her was a bit surreal for a second, because I love Frances Ha [which Gerwig appeared in] so much.
It actually doesn't happen to me often with actors. But every now and again there's someone who really makes me feel the butterflies and Greta is one of those people.
We met over a Skype call and we were just so giddy around each other. I hope we get to work together again and again, I can just see us properly collaborating. She was so great at guiding me but giving me the space to find my own way. Being a good director is the equivalent to being a good parent.
How did you find out about your Oscar nomination?
I was at my friend's house and she had been secretly looking at the nominations online. I had forgotten they were coming out.
Eventually she pulled a load of confetti canons out of a tote bag and just went, 'pow!' and exploded them. I still didn't know what was going on and I had confetti all over me. Her man ran in with balloons and more confetti – and then they told me. I was so, so happy.
A few minutes later, she said 'Greta got nominated too'. As soon as I heard that, I just burst into tears. Out of everything, that's a change. It's insane that she's the fifth woman ever, just to be nominated. I'm so proud of her. She deserves it. She's a great film maker and she made one of the best films.
Follow us on Facebook, on Twitter @BBCNewsEnts, or on Instagram at bbcnewsents. If you have a story suggestion email entertainment.news@bbc.co.uk.