Ryan Seacrest: US TV host rejects harassment allegations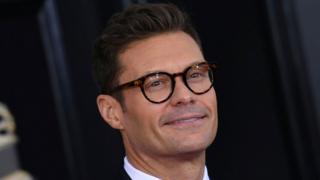 US TV host Ryan Seacrest has hit back at allegations of sexual harassment after his accuser went public.
Suzie Hardy alleged Seacrest harassed her for six years, starting in 2007, while she worked with him at E! News.
The American Idol presenter publicly denied the claims last year and was cleared by an internal inquiry. Hardy, however, made her allegations public for the first time on Monday.
Seacrest said: "I have no choice but to again deny the claims against me."
In an article published by Variety, Hardy – who is Seacrest's former stylist – claimed the presenter "cupped" her crotch, "forcefully slapped" her buttock and "tightly grabbed" her vagina.
She alleged that her employment was terminated in 2013 after she told E! human resources executives about the alleged abuses.
Seacrest issued a statement on Tuesday, dismissing the Variety article as a "salacious story".
He said that while he "unequivocally" supports the #MeToo and Time's Up movements and "applaud[s] all the brave souls who have come forward to share their stories", he had to remind people that he was cleared of any wrongdoing.
The 43-year-old said he had "eagerly participated" in the two-month internal inquiry, carried out by an independent third-party, "in order to demonstrate my innocence because I know my truth, and I believe in due process".
Seacrest went on to make allegations of his own against Hardy. "This person who has accused me of horrible things offered, on multiple occasions, to withdraw her claims if I paid her millions of dollars. I refused," he said.
The star's lawyer Andrew Baum claimed Hardy had "threatened to issue a demonstrably false press statement unless she was paid $15m (£11m)" – a charge Hardy and her lawyer told Variety was untrue.
Seacrest added that he was "dismayed" that "Variety didn't speak with me or bother to speak with other credible witnesses or even ask for any of the evidence that was obtained during the investigation when offered".
Variety's co-editor-in-chief Claudia Eller took to Twitter to say the magazine had spent an "hour on the phone" with Mr Baum and Seacrest's publicist before publishing the article, but claimed they had "declined to make him available".
She added: "Seacrest's representatives claimed to have evidence discrediting the accuser, Suzie Hardy, but refused to provide that as well, citing legal restrictions."
Daniel Holloway, who wrote the Variety story, told CBS News on Tuesday: "We obviously wouldn't have published this story if we didn't feel that it was highly credible and highly compelling."
A spokesperson for E!, a division of NBCUniversal, said the investigation into Seacrest had been "extremely comprehensive and thorough".
The broadcaster said: "The investigator is an attorney with nearly 20 years experience and is highly regarded professionally. Any claims that question the legitimacy of this investigation are completely baseless."
Last November, Seacrest denied he had "behaved inappropriately" and said he had always treated his colleagues "with kindness, dignity and understanding".
He went on to write a guest column for the Hollywood Reporter titled What Happened After I Was Wrongly Accused of Harassment.
E! has confirmed that Seacrest will still host coverage from the Oscars red carpet on Sunday as planned.
Follow us on Facebook, on Twitter @BBCNewsEnts, or on Instagram at bbcnewsents. If you have a story suggestion email entertainment.news@bbc.co.uk.