Piers Morgan: We've ripped up the breakfast TV rule book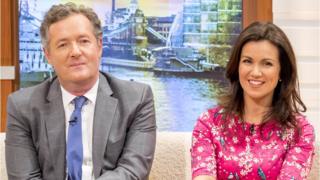 Few of us are at our best at 08:30 on a Monday morning. Piers Morgan, however, is firing on all cylinders.
The live TV show he's been presenting for the last two-and-a-half hours has already involved interviewing former Attorney General Dominic Grieve about Brexit and hosting a debate about whether Jediism is a real religion.
As I arrive at ITV's studios, bleary-eyed and clutching a strong coffee, he and co-host Susanna Reid are wrapping up their final interview of the morning – with singer (and former Black Eyed Pea) Fergie.
"This Good Morning Britain is quite funny, quite quirky, I like it," she says, just before the credits roll. She's not the first to have picked up GMB's unconventional formula.
The number of viewers to ITV's breakfast show have been slowly but steadily increasing since it launched in 2014, and in particular since Morgan joined two years ago this month.
"We are a very different proposition in the morning," says the presenter as we sit down on the familiar GMB sofa seconds after he comes off air.
"The BBC obviously has a very strong brand, and a very popular breakfast show that's done very well for a long time.
"And I just took a view that the way to make us truly competitive was to shake things up a bit. Make us unpredictable, provocative, lots of opinions, very lively, all the things that wouldn't traditionally be the BBC way of doing things."
It's arguably not even ITV's traditional way of doing things. The chemistry between Morgan and Reid is unusual to say the least (more on that in a sec), and Morgan himself isn't quite the cuddly, warm figure that would've been associated with some of the network's previous breakfast shows like GMTV.
But Good Morning Britain is proving to be considerably more successful than its immediate predecessor, Daybreak.
"Adrian Chiles and Christine Bleakley are good friends of mine, they're very talented, but there was something that didn't quite work about Daybreak in the way it was produced, the way it appeared on air," Morgan says.
"And I don't think they enjoyed it more than anybody else. They were fantastic on The One Show, they're two brilliant broadcasters, but sometimes, for whatever reason, it just doesn't click."
GMB, on the other hand, seems to have hit its stride.
"I think Good Morning Britain found its feet in that first year, settled down, and then I came in – like a tornado, as Susanna put it – and basically changed everything irrevocably," he says.
"There's always been a conventional view [about breakfast TV] – you can't be too loud, too provocative, too noisy because people are waking up, they just want a bit of background noise. And I took a view that that's fine, but that's not me."
He refers to a recent discussion with Eamonn Holmes, who Morgan describes as "a fantastic journalist and brilliant breakfast presenter", and who recently topped a poll of the UK's favourite breakfast TV hosts.
"I think what Eamonn would say, because we've had this conversation, is that he likes the fact that I've basically ripped up the rulebook of breakfast TV," Morgan says.
However, GMB still has some way to go if it wants to catch up with BBC Breakfast.
The BBC One morning show has a daily average audience of 1.5 million people, while Good Morning Britain has 640,000.
The BBC said: "BBC Breakfast is the most watched breakfast show in the UK with more than double the audience of Good Morning Britain. This is why we continue to attract top name guests."
But Morgan thinks one particular advantage GMB has is that it's based in London (BBC Breakfast moved to Salford in 2012).
"I think it's key," he says. "I thought it was a big mistake of the BBC to take their morning show up to Salford. No disrespect to Salford, which is a great place. But obviously, physically a lot of the guests reside in London, or come to London.
"If there's big stars around, like Fergie today, would Fergie have gone all the way to Salford to do a five-minute hit? I doubt it. She's a big American star.
"But she'll come in here, sit on the sofa and have fun with us, and it's great to have stars of that magnitude. All of the politicians are down here, and so on."
BBC Breakfast has, however, attracted guests such as John Legend, Ed Sheeran, Paloma Faith and will.i.am. to its Salford sofa.
Earlier this month, Reid told The Guardian the move to Salford was one of the factors that led her to swap from BBC Breakfast to ITV.
Morgan says: "Susanna worked at the BBC for a very long time, very successfully, and had to be detrained – by me – from her very PC, very non-opinionated stance.
"Now I've got her basically where I'd like her to be, which is highly opinionated and giving me grief all day long." He laughs (and he used a slightly stronger word than grief).
"We really like and respect each other, but we also find each other very annoying.
"Most days there's a viral video that goes round of the Susanna Reid eye-roll or the zinger at the end of one of my monologues, and she of course, by saying less, often has more impact. But I think the relationship we have is really interesting to people."
(And that's only when Piers isn't busy going viral himself – he was in the headlines again on Wednesday morning after getting into a tussle with a dating guru live on air.)
The flipside of having a polarising figure fronting a breakfast show, however, is the impact it can have on guests – who in some cases have refused to appear on the show.
Earlier this year, Ewan McGregor dropped out at the last minute, and there have been rumours that PR teams often try to book their celebrity guests onto the show on a Thursday or Friday, when the somewhat-less-controversial Ben Shepherd and Kate Garraway are presenting.
"Of course that goes on, yeah," Morgan says. How does he feel about it? "Absolutely fine. If they want to bottle it, like Ewan McGregor, and they haven't got the guts to come and debate with me live on air, that says more about them than me."
He continues: "Liberals have become the most intolerant people in the world, which is such an irony given that they're supposed to stand for fairness, debate, tolerance and democracy, but they're none of those things.
"Ewan McGregor should've come on here, sat on the sofa and told me to my face what he put on Twitter. Then I would've respected him. To storm off, quite deliberately to promote his movie by the way, I thought was an act of rank cowardice."
Looking back at the number of interviews he's done in the last two years, Morgan says: "My favourite guests are strong, opinionated people, prepared to take me on, and not afraid of having a debate.
"John Prescott's a great example, Lord Sugar's a great example. Michael Gove comes on, we give him a hard time, he comes back, I respect people like that."
He adds: "I doubt that people watching the programme would even know with politicians what I'm really thinking, I like to just play devil's advocate with them."
While the early morning starts may have taken some getting used to, Piers isn't going anywhere soon.
For one thing, he wouldn't want to give his BBC Breakfast rival Dan Walker – who he regularly engages in Twitter spats with – the satisfaction.
"We're very competitive, but we're good friends," he laughs. "We like poking each other, and actually, don't tell him, but I think he's a very good broadcaster.
"But rather like his golf, he's good, but not quite as good as me."
Good Morning Britain is on weekdays on ITV from 06:00-08.30 GMT.