Luke Evans meets fans and hints at new part in Wales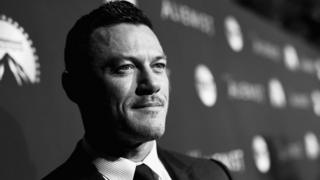 Welsh actor Luke Evans says he would like to return to Wales to make a film – and is already looking at the possibility of a production back home.
The 39-year-old star of Beauty and the Beast was in Cardiff to meet fans at a special Bafta Cymru event.
He has become an ambassador for the academy and hopes to inspire others to pursue careers in film and TV.
Evans told BBC Wales he had just read a script for a production to be shot in the south Wales valleys.
He credited his upbringing in Aberbargoed for his continuing success.
Evans said: "I am very aware of my Welsh heritage and how powerful our culture is, and how much it identifies who we are. From the music to the poetry and sport, to the way we speak.
"The beautiful lilt in the Welsh accent is something that I have benefited from as a singer."
Evans's career began in musical theatre.
For the last 10 years he has been making films and TV series, with roles in The Hobbit and Girl on a Train, while he was Gaston in Disney's live-action remake of Beauty and the Beast.
He has also been the face of the Visit Wales tourism campaign, and said he was inspired by the growth of the film and TV industry here.
"I wish that was what it was like when I was young, maybe I would not have gone. Maybe I would have stayed.
"It is a great thing, it is great that we have great crews, great studios."
Evans said he had seen a script for a new Welsh production, but would not confirm if he would appear in it.
He said: "I have just read a script which is based in the valleys in south Wales, it will be shot in the valleys, I am quite sure.
"And that is an amazing thing. I love the fact that we will put a spotlight on parts of Wales that people might not know of. This is a bit like when Billy Elliot came out and we saw Sheffield in all its glory."
Luke Evans's showbiz lifestyle reflects his acting success. His social media profiles are filled with selfies and videos of the actor in the company of other famous faces.
Among them is fellow Welsh actor Matthew Rhys, who he supported at the Emmy Awards earlier this year where Rhys won the award for best actor.
Evans explained how he met Rhys and Hollywood's Welsh diaspora.
"He (Matthew Rhys) had a barbecue at his house and I was invited, and I met a whole bunch of Welsh people who live in Los Angeles – they call themselves the Taffia.
"And a lot of those people are still my friends today, and Matthew was one of them. I also look up to him. He is an incredible actor, I think he is one of the best.
"I was very proud to sit in the audience and watch a fellow Welshman get up on the stage and get his well-deserved Emmy for a brilliant performance in The Americans."