Lily Allen on her demons, divorce and laughter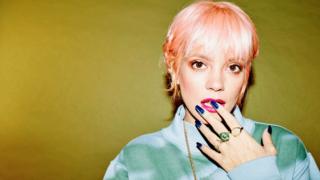 "I actually thought my label would drop me, but they didn't."
Lily Allen laughs. She laughs a lot.
All those acerbic, combative comments you see on her Twitter feed? Imagine them with an almighty guffaw at the end – because that's probably how they were written.
Not that she's one to shy away from a fight. Her most recent Twitter clash was with Piers Morgan, who called her "reprehensible" for wearing a machine-gun necklace.
"I'll stop wearing the necklace," she shot back, "when you apologise for hacking the phones of dead children."
When Morgan pointed out "that was another newspaper", Allen reminded him of how he got sacked from the Mirror for publishing hoax photos of the British military.
Later that day, Allen's upcoming appearance on Good Morning Britain was cancelled.
So what's the shortest amount of time that's elapsed between her sending a tweet and her publicist phoning in a panic?
"I don't think anyone's ever called me up like that," she says.
"The people who work with me know me well enough to realise that if they call up and tell me not to do something, I'm going to do more of it."
So she tweets about Grenfell, the Calais refugee crisis, Brexit… whatever's on her mind. Allen has a restless personality, and Twitter keeps her occupied.
"That's me on holiday: Refreshing Twitter, laying into some racists," she says, laughing again.
However, laughter is in short supply on Allen's new album.
Called No Shame, it was written over four years, as Allen dealt with the depression stemming from her divorce from Sam Cooper and a terrifying intrusion from a stalker, who broke into her flat while she was sleeping, pulled off her duvet and threatened her.
It is a heartbreakingly lonely record. "I'm at my worst when I'm alone /Can't take the peace," she sings, numbed, on the R&B ballad Everything To Feel Something. "Nothing really moves me any more."
"I was definitely isolated," she says of the last four years.
"When me and Sam got together, I very much attached myself to his life. His friends became my friends; his family became my family. So when that stopped, I felt at loss.
"My friends outside of the relationship were, like, my 'showbiz friends' and I didn't want to be in the spotlight at that point.
"Then when the stalker thing happened, I just shut down emotionally in every way. I didn't feel like I could talk to anyone about what I was going through. I just kind of sat at home being sad."
Never one to self-censor, Allen poured all of the heartache into her music.
On What You Waiting For, she takes responsibility for her part in the marriage breaking down. "Don't know why I was untrue," she sings. "I ran at the first sign of trouble."
Apples finds her reminiscing about the early days of their relationship, until the reality of divorce punctures the daydream.
"I'm just like my mummy and my daddy," sighs the singer, whose parents Keith Allen and Alison Owen separated when she was four.
"I guess the apple doesn't fall far from the tree."
"It was devastating," she recalls. "Ethel, my eldest, was four when me and Sam broke up. It really felt like history was repeating itself and everything I'd worked so hard to [avoid], ended up happening."
Scared of rejection
The first song Allen wrote for the album was Family Man, which came about pre-divorce. But even then, clouds were gathering.
"I'd just finished an American tour and I should have been wanting to run back to the Cotswolds to be with my family – but I didn't," she recalls.
Instead, she rented a house in Santa Monica and threw herself into writing sessions – afraid of what might be waiting for her back at home.
"My kids were pining for me [but] I was actually scared of them rejecting me.
"There'd been moments on the tour where I'd gone home for a few days and if one of them had fallen over, they'd go straight to daddy or to my mum – and that was painful because I obviously wanted them to come to me and feel comforted by me.
"Because I'd been away for such a long stretch of time, I was convinced they wouldn't even know me so I was like, 'I'll keep working. I'll just be away.'"
Those concerns also inspired the album's most affecting song, Three, which is written from the perspective of her daughter, who's feeling neglected when her mum goes on tour, or is otherwise unavailable.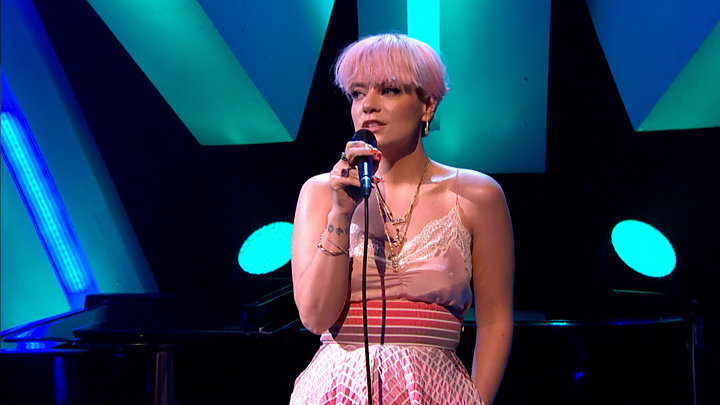 "You say you love me / Then you walk right out the door," she sings. "Please don't go / Stay here with me / It's not my fault / I'm only three."
In other hands it could be twee and mawkish, but Allen is too dextrous a writer to fall into that trap.
She won't take the compliment ("I'm glad you liked the lyrics – but clever? I don't know about that") and insists her songs are all created in the heat of the moment.
So there's seriously no preparation? No draft lyrics hidden in her phone?
"It's the same thing as homework when I was at school – I just didn't do it.
"But also if I have a preconceived idea, it automatically feels forced before I've even done it. It's the cringe factor thing."
The star's not a fan of her own voice, either, and refuses to be in the studio when her vocals are mixed – despite attaining a Grade 8 in singing when she was at school.
"Back then, I could sight-read music," she recalls. "I was in a chamber choir, they'd shove a songbook in front of you and it'd just come out.
"But it was all arias and cantatas – classical stuff. I definitely don't use it any more."
Instead, she uses writing as a way to "square things off and process" her feelings – and the tail end of No Shame sees her emerging from the darkness of the last four years.
She sings about her new love, grime artist Meridian Dan, on the Kanye-esque Pushing Up Daisies; and challenges the patriarchy on the upbeat, defiant Cake.
Allen believes the music's #MeToo moment is yet to come; and says the industry is also failing artists who struggle with mental health issues.
"Mental health and the MeToo thing aren't unrelated," she says.
"I think there are lots of things being buried and lots of people covering their ears and hoping this whole conversation will go away."
And what of her own record label? They may have decided to keep her… but Allen's relationship with the music industry's gatekeepers has never been simple.
She criticises the way No Shame has been promoted, saying she'd have preferred to release the whole album at once, rather than teasing tracks over a period of months.
"It's meant to be listened to as a collection of songs," she says. "It's not singles.
"If I'd wanted to make radio hits, I would have gone and worked with Greg Kurstin again, or Diplo, or whoever it is that makes radio hits these days."
Her argument is vindicated by the fact that none of those pre-release singles has cracked the Top 40.
It's a somewhat hollow victory but Allen, who was signed to a five-album deal in 2005 for the princely sum of £25,000, doesn't seem too concerned.
"Whether this album is a success or not is immaterial to me: I'm still not going to make any money," she says.
"But I'm still going to make music and, in a way, that's what I'm most excited about: Getting the next album done and being out of my deal. Because then I can really just start throwing things against the wall."
And Lily Allen throws her head back and laughs.
Follow us on Facebook, on Twitter @BBCNewsEnts, or on Instagram at bbcnewsents. If you have a story suggestion email entertainment.news@bbc.co.uk.