Hugh Jackman: 'Sorry (not sorry) to my surgeon'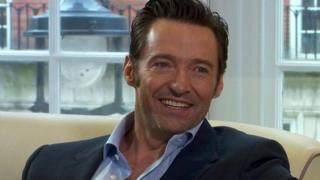 Actor Hugh Jackman has revealed he sang in front of movie executives during a read-through for the film The Greatest Showman soon after cancer surgery.
Jackman says he is "not sorry" for the performance, despite his surgeon's advice not to.
He said the song was worth having to get his nose stitches re-sewn.
Jackman had his first cancer removed in 2013, after his wife told him to get a growth checked out. He has since had at least six procedures.
"I had 80 stitches in my nose and my doctor said, 'You're not allowed to sing,'" Jackman said in his video on Facebook.
"It took eight months to get everyone in the room in New York City," says Michael Gracey, director of The Greatest Showman, who urged Jackman to gesticulate and act in front of everyone rather than sing.
Although the Wolverine and Logan star acted out many of the musical numbers, he sang the song From Now On during the read-through.
You may also like:
Jackman posted on Instagram after he had his fifth skin cancer removed last year. The dressing covering his nose followed surgery to remove a common skin cancer called basal cell.
According to the NHS, basal cell carcinoma accounts for about 75% of skin cancers.
Basal cell carcinoma is a non-melanoma – which means it is much less likely to spread – and is caused by overexposure to ultraviolet light from the sun or sunbeds.
Some on social media say they are in awe of Jackman, while others expressed worry for him.
Earlier this month the ocean liner Queen Mary 2 hosted the premiere of The Greatest Showman, starring Hugh Jackman, the first time a Hollywood red carpet event has taken place on a passenger ship.
By Victoria Park, UGC and Social News team