How the celebs wished us happy new year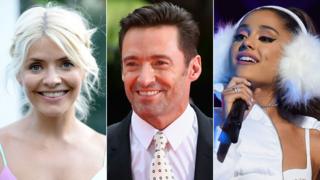 Even if you're still wandering around in your pyjamas after seeing in the new year, you can rest assured that some of the biggest celebrity names probably are too, if their social media posts are anything to go by.
Here are just a few for you:
There were no half measures for Hugh Jackman, who saw in the new year watching Sydney's fireworks before strapping on his climbing gear. He and his wife Deborrah-lee Furness decided to scale Sydney Harbour Bridge. Don't look down!
It was back down to earth with a log fire and snacks for Ed Sheeran though.
Holly Willoughby decided to see in the new year in her bikini, before she returns to cooler temperatures to present the return of ITV's Dancing on Ice. Make the most of that sunshine, Holly.
For Ariana Grande, it was all about the music. Listen in and see why she delighted her fans so much.
John Boyega, whose latest film Star Wars: The Last Jedi, has just topped $1bn at the global box office, is also feeling pretty upbeat. He tweeted a picture of Eddie Murphy, who also happens to star in one of his favourite films, Coming to America.
Little Mix were full of promises for exciting things to come in 2018, we can hardly wait…
But if making grand plans is all a bit much, you may just want to lie down and think sweet thoughts for a day or so. Is this you today?
There's no time to snooze for Doctor Who – it's going to be a busy year for Jodie Whittaker, who is taking control of the Tardis. She looks like she's got her eyes on the stars.
If you don't have a sore head, you may enjoy this timeless classic (aren't they all at this time of year?) – Happy New Year by Abba. We don't know what Bjorn, Benny, Anni-Frid and Agnetha are up to today, but their official fan club has raised a glass to them, as have we.
Madonna decided let her picture do the talking, with this arresting photograph of herself with her daughter Lourdes, declaring they were "ready for you 2018" .
Ellen DeGeneres was typically positive about what 2018 may bring, saying: "What a thrill to ring in a bright new year for the world!"
But perhaps the final word should go to Will Smith, who is celebrating his 20th wedding anniversary with Jada Pinkett Smith. His new year message is all about why love is like gardening.
"I have learned to focus on HELPING you to BLOSSOM into what YOU want to be (into what you were born to be)… Rather than Demanding that you become what my Fragile Ego needs you to be."
Follow us on Facebook, on Twitter @BBCNewsEnts, or on Instagram at bbcnewsents. If you have a story suggestion email entertainment.news@bbc.co.uk.