He-Man: Clerks director Kevin Smith to revive 80s series for Netflix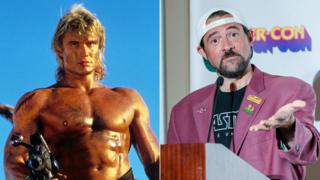 By the power of Grayskull! Clerks filmmaker Kevin Smith is teaming up with Netflix to revive the He-Man and Masters of the Universe series.
The early 80s animated franchise started life as a Mattel toy range inspired by the success of the Star Wars action figures.
It was later turned into a film starring Rocky actor Dolph Lundgren.
Last year, Netflix premiered She-Ra and the Princesses of Power, a spin-off praised for its LGBT representation.
"This is the Masters of the Universe story you always wanted to see as a kid!" Smith told the audience at the annual Power-Con convention in California at the weekend.
The series premise revolved around the conflict between heroic He-Man aka "the most powerful man in the universe" and the evil sorcerer Skeletor on the planet Eternia,
"I'm Eternia-ly grateful to Mattel TV and Netflix for entrusting me with not only the secrets of Grayskull, but also their entire Universe," Smith added.
The new series, Masters of the Universe: Revelation, will apparently pick up where the original animated series left off and will use Japanese anime-style animation.
Smith will serve as showrunner and executive producer while Mattel Television will act as producers.
The 1987 movie, which also starred Frank Langella and a pre-Friends Courteney Cox, was a critical and commercial flop which failed to earn back its reported $22m budget.
But the film has since attained cult status among some fans and the characters remain popular, even appearing in a recent British TV advert which saw enemies He-man and Skeletor recreate the climactic dance scene from the movie Dirty Dancing.
Twenty-two-year-old actor Noah Centineo confirmed earlier this year that he has been cast as the musclebound hero in a live action remake of Masters of the Universe.
He told The Tonight Show's Jimmy Fallon: "It's quite an opportunity."
Follow us on Facebook, on Twitter @BBCNewsEnts. If you have a story suggestion email entertainment.news@bbc.co.uk.