Harvey Weinstein timeline: How the scandal unfolded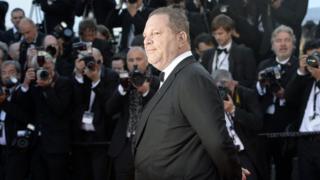 Hollywood has been rocked by allegations against film mogul Harvey Weinstein – which first came to light a week ago in a New York Times article.
Since then, the story has developed continuously, with a large number of women coming forward to claim they were sexually harassed by Weinstein – allegations he has denied.
Here is a summary of the events so far:
Thursday 5 October
The New York Times publishes a story detailing decades of allegations of sexual harassment against Harvey Weinstein. Actresses Rose McGowan and Ashley Judd are among the women who come forward.
Among the accusations are that he forced women to massage him and watch him naked. He also promised to help advance their careers in return for sexual favours.
Weinstein issues an apology acknowledging he "has caused a lot of pain" – but disputes claims he harassed female employees over nearly three decades.
Weinstein's lawyer tells The Hollywood Reporter his client is preparing to sue the New York Times.
Weinstein says he is taking a "leave of absence" from The Weinstein Company and is working with a therapist.
Friday 6 October
Saturday 7 October
Weinstein's lawyer Lisa Bloom announces her resignation, saying she understand that "Mr Weinstein and his board are moving toward an agreement".
Sunday 8 October
It is announced that Harvey Weinstein has been sacked by the board of his company, with immediate effect.
They say the decision was made "in light of new information about misconduct".
Monday 9 October
Tuesday 10 October
Allegations from 13 more women are published in the New Yorker magazine, including three accusations of rape, which Weinstein strongly denies.
Actress Asia Argento and a former aspiring actress named Lucia Stoller say Weinstein forced himself on them sexually. A third woman withholds her name from the article, the result of a 10-month investigation by the magazine. Argento says the incident happened in 1997 in the south of France while Stoller, who now goes under the name Evans, says she was forced into a sexual act by the producer after going for a casting meeting in 2004.
Weinstein's spokeswoman Sallie Hofmeister tells the publication: "Any allegations of non-consensual sex are unequivocally denied by Mr Weinstein."
Hollywood A-listers Gwyneth Paltrow and Angelina Jolie say they were harrassed by Weinstein. Paltrow says she was propositioned as a 22-year-old, while Jolie referrs to a "bad experience" in her youth.
Other figures to speak out against Weinstein include Barack Obama, Benedict Cumberbatch and Leonardo DiCaprio.
Wednesday 11 October
A number of senior Labour MPs call for Weinstein's honorary CBE to be taken away. Prime Minister Theresa May says a decision about the honour would not lie with Downing Street.
A statement from the Cannes Film Festival says organisers are "dismayed" to learn of the allegations about Weinstein.
Thursday 12 October
Overnight, police are called following a "family dispute" at the home of Weinstein's daughter. The Los Angeles Police Department (LAPD) confirms they were called to reports of a "disturbance" at the house but say no crime was committed. Weinstein was not there when officers arrived.
Police in New York tell the BBC they are looking to speak to an individual regarding an allegation against Weinstein dating from 2004. The NYPD does not provide further details.
Family Guy creator Seth MacFarlane addresses a joke he made about Weinstein's sexual conduct at the 2013 Oscar nominations, saying decided to speak out after a co-star had been harassed by the producer.
---
Follow us on Facebook, on Twitter @BBCNewsEnts, or on Instagram at bbcnewsents. If you have a story suggestion email entertainment.news@bbc.co.uk.