Hank Green on the darker side of internet fame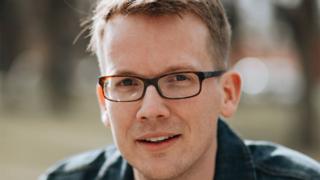 The Absolutely Remarkable Thing by Hank Green might not initially sound Absolutely Remarkable.
"It's is about a young woman, who is coming out of college, starting her life in the workforce, trying to figure out who she is and what she's going to be," the vlogger and author tells the BBC.
Sounds pretty normal so far, right? Well that's where the relatability ends.
Because then, when protagonist April May (yes, really) makes her way home from work, she stumbles across a massive robot, dubbed Carl, in the middle of the street and naturally, calls up her friend Andy to film and upload it online.
Being the first to report on the scene, the pair become internet sensations overnight, and when more Carls pop up across the world, April becomes the face of this futuristic phenomenon, quickly learning about the cost of fame in the age of social media.
As one half of YouTube channel VlogBrothers, which has more than 3 million subscribers, and co-creator of VidCon – one of the biggest events in your favourite YouTuber's social calendar – it's safe to say that Hank is well-equipped to write about internet fame.
"I've always wanted to write a book," he says. "And it turned out that it was more about finding a story that I felt I was necessary for, that no-one else could write."
While there are already plenty of books depicting the life-changing effects of becoming a social media star, Green's take on the matter goes a little deeper, as we see April's obsession with being the centre of the story become the source of her downfall.
By the time Green became popular on the internet, he was 28 years old, married and says he felt he had established his identity.
"When I was watching 19 and 20-year-olds go through this, dropping out of college to become famous on the internet, I saw that it can go well but it can also go poorly, and usually it'll be a mix of those two things," he ponders.
"I wasn't here to tell a wish fulfilment story and walk through the process of how great it is to be famous on the internet; it can really suck sometimes."
"And I could never publicly be like 'Here's an essay on why being a famous, rich, internet creator sucks!', but you can say it from the perspective of a character who you've been invited into seeing the world through."
Being admired by millions of viewers who latch onto each and every one of your videos may seem like the modern-day dream, but as readers see through April's journey, no matter how many followers you have, it can still be quite isolating – especially when trying to keep those followers.
"When the number of followers feels like it's shrinking, it feels like such a tremendous loss and such a hit to your self-worth," he says.
"It's very difficult not to tie your self-worth to the size of your audience and and I've watched a lot of people do things that they know are not good things to do, in order to keep those numbers high because they're protecting their self-worth, and I watched April do that as well and it's tough."
One major aspect of social media and the internet is being able to curate our profiles and feeds to reflect our personalities. Or is it?
In the book, we see April slowly branding herself as the face of humanity, where she notes that "being annoyed by carefully crafted internet personas" was part of her carefully crafted internet persona.
Which raises the question, can anyone truly be authentic online?
Hank laughs, saying that that's one of his favourite parts of the book too.
"That question comes down to whether anyone can truly be authentic," he explains.
"We have always done this, we have different ways we portray ourselves to different people and have different ways we think about ourselves internally and ideas we have inside of our heads we'd never share," he says.
"And when you do pretend to be a certain way, you eventually become that way.
"So what is the self? Basically we've now gotten to one of the root questions of philosophy. And it didn't take very long to go from 'can you be authentic on the internet?' to 'what is the self?', so I don't know how to answer that one."
From politics and internet trolls to world-dominating robots and meetings with the president, it's almost as if this book is ready for a Netflix adaptation.
Hank's older brother John Green – author of Paper Towns and The Fault In Our Stars – is already pretty familiar with making the leap from the page to the silver screen but for now, he'd like to work on the sequel.
"I want to be done with the sequel before I think about the movie because I don't want all of that stuff to stand in the way of writing," he says.
"I really need to write book two and that's really important to me, to see this story through to the end," he says.
So while we won't be seeing April and Carl come to life any time soon, he did pick up a few tips from John.
"I would occasionally talk with John about a plot problem I have, like when I want something in the book to happen but I'm can't figure out how to get there."
"I remember John saying 'If you are writing and it's bad, that's better than not writing at all, you will look back and you'll see that you found something even if you're gonna delete everything you wrote today, you will have learned something that's useful and it's going to make the book better'."
Follow us on Facebook, on Twitter @BBCNewsEnts, or on Instagram at bbcnewsents. If you have a story suggestion email entertainment.news@bbc.co.uk.