George Michael fans urged to 'raise a glass'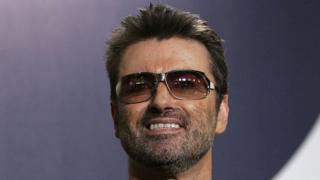 George Michael's family have paid tribute to the former Wham! frontman a year after his death.
A note posted on his website urges fans to "appreciate your family and friends" and to "raise a glass, enjoy his music and think of him fondly".
Michael died aged 53 on Christmas Day 2016 at his home in Oxfordshire as a result of heart and liver disease.
His old band's seasonal song Last Christmas returned to number three in the Christmas singles charts last week.
The family message, which refers to Michael using his family nickname "Yog", is signed "Melanie, Yioda, Jack & David – looking up… Yog, Lesley, Anselmo, Hippy, Mo & Meg – smiling down" and is accompanied by a childhood picture.
Michael's family thank fans for having made his second solo album Listen Without Prejudice number one in the UK album charts again this year.
"This year has been a series of new and tough challenges for those of us close and loyal to Yog, not least of which was steeling ourselves this month, to hear 'Last Christmas' and 'December Song' streaming out of shops, cars, and radios, as it has done for decades, knowing he's no longer here with us, missing him," they say.
"This Christmas will be hard without him, but we know that we are not alone in our mourning the anniversary of his loss, and that the sadness of our wider family, and true friends, is shared by many of you."
The family go on to urge everyone not to hold "important words and feelings inside", adding: "If you can, in his memory this year, take a moment and a deep breath and say those 'I love you's' out loud."
Listen again to Radio 2's tribute to George, one year on, and re-live our live George Michael tributes page from last year.