Danny DeVito takes teen's cardboard cutout on set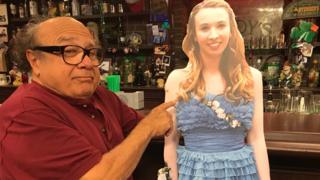 When a Pennsylvania high school student took a cardboard cutout of Danny DeVito to her high school prom it made national news in the US. Now DeVito has returned the compliment.
Allison Closs's "date" with a cardboard DeVito at the Carlisle High School senior prom in May was covered by Time magazine and the Associated Press among others.
It was popular enough to catch the eye of DeVito's It's Always Sunny in Philadelphia co-star Rob McElhenney, who came up with a creative response on Monday.
"I heard you took cardboard Danny to Prom," McElhenny wrote in an Instagram post liked almost 36,000 times. "What a coincidence. He took cardboard Allison to Paddy's [the pub in It's Always Sunny]."
'Danny was there for me when I really needed him'
In a post on her YouTube channel, Allison explained her decision to take a cardboard cutout to prom.
"I couldn't find myself a date in real life or with an actual human," she said, with her tongue firmly in her cheek. "So I bought one on Amazon.
"I have always loved Danny. I loved him on It's Always Sunny in Philadelphia, I loved him in Hercules and Matilda. I just love him in every form he takes.
"Danny was there for me when I really needed him. He treats me the way a woman should be treated."
You may also like:
Later in the video Allison interviews her father about the plan, who is completely on board with the joke.
"He's a little bit older," says her dad, "but he's a very nice man and I think he's going to treat her with a lot of respect".
The picture of DeVito with the cardboard cutout from McElhenney's Instagram account has been shared widely online – with one image upvoted over 130,000 times on Reddit.
Allison was labelled "adorable" and an "instant legend" by various Reddit users, including one of her schoolmates who explained she was "mobbed" by photographers on her way into the prom.
Meanwhile, responses to McElehenney's tweet informing Allison about her return date at Paddy's have taken an odd turn as people have begun posting photos of themselves with their own facsimiles of the Twins actor getting into mischief.
One person shared their snap of cardboard DeVito looking after their dog, while another posted how her replica of the Batman Returns star "loves coming to work with me".
It is not clear what Allison thinks about her prom date sneaking around behind her back with other people, but she has responded to McElhenney's tweet with excitement.