Banksy Liverpool murals sold for £3.2m to Qatari buyer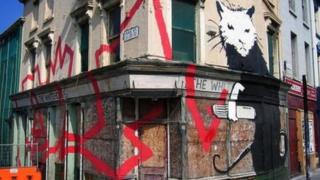 Five murals by street artist Banksy have been sold to a buyer from the Middle East for £3.2m.
The works, which include his famous 40ft (12m) by 20ft (6m) Liverpool Rat, were sold to a Qatari buyer.
Consultancy Samuel Beilin and Partners sold the Liverpool murals on behalf of a client who wished to remain anonymous.
Some of the works had been due to be part of a new defunct street art gallery in the city's Chinatown.
The Liverpool Rat mural, which was painted on the outside of the derelict former Whitehouse pub in 2004, failed to sell at a London auction in 2014.
The four other Banksy works that were sold are: Love Rat, Never Liked The Beatles, Secured and Love Plane.
A spokesman for Samuel Beilin said their client had bought the works from several Liverpool properties but was selling them to a Middle East buyer who may put them on public display.
The murals, most of which are on plaster, will be stripped intact off the walls and sealed with a varnish to allow them to be transported.