BAE quits as Great Exhibition of the North sponsor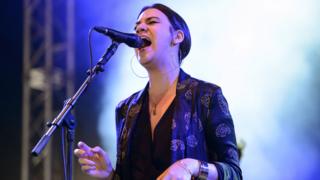 Defence giant BAE Systems has withdrawn its sponsorship of this summer's Great Exhibition of the North following protests by several acts.
Singer-songwriter Nadine Shah and ex-Chumbawamba member Boff Whalley's Commoners' Choir had withdrawn from the event in Newcastle and Gateshead.
BAE Systems said it would "redirect our support to other initiatives" better suited to its objectives.
It remained "supportive of the aims" of the Great Exhibition, it added.
The 11-week arts festival is being staged with £5m from the government's Northern Powerhouse fund.
BAE had been under scrutiny for selling arms to Saudi Arabia because of its role in the ongoing war in Yemen.
"While BAE Systems remains supportive of the aims of the Great Exhibition we have decided to redirect our support to other initiatives better suited to both our skills and innovation objectives and in support of the industrial strategy of the North of England", a statement said.
BAE Systems describes itself as "a world leader in engineering innovation, manufacturing and technology" and employs more than 18,000 people in the north of England.
A Great Exhibition of the North spokesperson said: "We accept and respect BAE Systems' decision."
Organisers said they remained "focussed on delivering a successful event which will shine a spotlight on the North's great art and culture, design and innovation".
Nadine Shah had earlier posted on Twitter asking for pressure to be put on the festival to drop BAE as a sponsor.
An online petition calling for the exhibition to refuse sponsorship had 2,300 signatures at 21:00 GMT.