5 body positive TV characters you need to know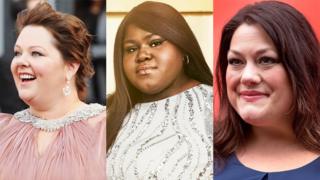 Netflix has faced harsh criticism for its new series Insatiable, which tells the revenge story of unpopular and overweight schoolgirl Patty, who gets her own back on bullies after accidentally losing weight.
Many critics have said the show sends the wrong message about body image.
If you think Insatiable has room for improvement, here are five shows that embrace and celebrate the plus-sized body.
---
1. Sookie St James from Gilmore Girls, played by Melissa McCarthy
While a lot of the characters she portrays in films often rely on fat jokes, one of her most recognisable roles doesn't mention her size all.
McCarthy played the talented chef and BFF of Lorelai, Sookie St James, in Gilmore Girls. She may have been a little clumsy, but her weight was never mentioned in the show and she went on to have a loving relationship with someone who simply adores her.
---
2. Becky from Empire, played by Gabourey Sidibe
Sibide plays Becky, the assistant to hip-hop mogul Lucious Lyon at fictional entertainment company Empire Entertainment.
While fans have often suggested her character falls into the "sassy black secretary" stereotype, later on in the show we see that Becky is actually a total boss as her career progresses at the record label.
The actress's performance made the headlines when her character had a love scene in 2015, and despite receiving abuse on social media, Sidibe said she was "proud" of her scene.
"I had the most fun ever filming that scene, even though I was nervous," she said. "But I felt sexy and beautiful and I felt like I was doing a good job."
---
3. Rae in My Mad Fat Diary, played by Sharon Rooney
At the start of the E4 cult show, we see Rae struggling with a mental illness that stemmed from an eating disorder. However, throughout the series, the protagonist slowly starts to heal and truly embrace self-love.
In 2015, after winning the Bafta for her performance, she told The Guardian she had been desperate to play Rae.
"When I read the script, I thought, this is such an important person," she said.
"And it was the first time I had seen a story like that where I could play the lead. I didn't have to change. I could do it as I was."
---
4. Plum in Dietland, played by Joy Nash
Dietland is a new dark comedy drama based on the novel of the name same by Sarai Walker.
The show follows Plum Kettle, a ghostwriter for one of New York's hottest fashion magazines, on a complicated road to self-awakening. She also finds herself between two groups – a guerrilla group carrying out violent acts of justice against those who mistreat women, and another that preaches female empowerment.
Walker told The Guardian: "I'm hoping [for] a change in the culture, that we're going to see more fat people and smarter portrayals of fat people."
---
5. Jane Bingum in Drop Dead Diva, played by Brooke Elliott
After being killed in a car crash, superficial aspiring model Deborah Dobkins is brought back to life in the body of lawyer Jane Bingum, who is hard-working and brilliant at her job.
While the show has been criticised for presuming women can either be good or thin, it's the award-winning performance by Elliott that saves it.
The show has also been praised for tackling issues like the dangers of dieting and sizeism.
---
Follow us on Facebook, on Twitter @BBCNewsEnts, or on Instagram at bbcnewsents. If you have a story suggestion email entertainment.news@bbc.co.uk.