Seven o'clock is peak time for pizza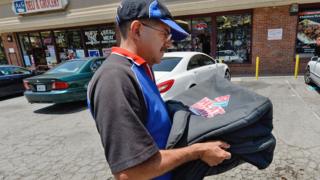 Seven o'clock in the evening is a global sweet spot for wanting to order take-away food, says an international study of internet traffic.
Academics have examined patterns of looking for food online, such as pizza or Chinese meals, across the UK, US, Canada, Australia and India.
They found that a similar "twin peaks" pattern appeared in all countries – at 7pm in the evening and then at 2am.
The study suggests ancient "foraging" behaviour has now switched online.
This big data research from biologists at the University of Aberdeen, to be published by the Royal Society, has tracked how the search for food takes place online.
Hunting and Googling
The study looks at how ancient human patterns of hunger and foraging have moved into the internet era, using Google searches for take-away curries, Chinese meals and pizzas.
The researchers found that despite big cultural differences, there was a remarkably consistent rhythm of people wanting to find food online at about 7pm.
There was a second peak of search for food online at 2am, consistent across seasons and geographical locations, say researchers Nicolas Alvarado and Tyler Stevenson from the University of Aberdeen.
It showed how human biology, such as wanting "energy balance" in terms of intake, had switched to the internet age.
Dr Stevenson says this 2am peak might raise public health concerns about obesity, with eating food late at night being linked to weight gain.
But he says the findings also show a new way of studying "foraging behaviour" and understanding human motivations about seeking food.
"All organisms have strategies to locate and consume nutrients and food necessary for survival," says Dr Stevenson.
That primeval hunting instinct has now moved to late-night searching on the wide plains of the internet. Not so much hunting and gathering, as hunting and Googling.