School uniform in Wales 'could become cheaper'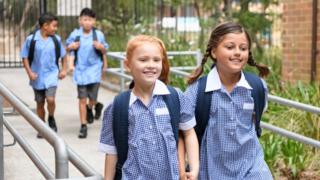 School uniform could become cheaper in Wales under plans being considered by ministers.
Proposed new Welsh Government guidance would put a legal duty on governors to consider the cost of uniforms.
It also says uniform policies should not dictate different items of clothing on the basis of sex or gender.
Rhiannon Thomas, who had to borrow money to pay for her son's uniform, said the need to put school logos on uniform added to the cost.
She said she went shopping for her 15-year-old's uniform with £200 and "came home with £1.50 change".
"Because it has a logo on it costs double the price of what it would cost in a supermarket," she said.
Uniform policy is decided by individual schools' governing bodies.
The proposed guidance tells governors to consider only stipulating basic items and colours for uniforms so that they can be bought from a range of suppliers, as well as avoiding high-cost items such as blazers and caps.
Limiting logos on items and providing iron-on or sew-on versions has also been put forward.
It also encourages uniform exchange or recycling schemes, which are already well-established in many schools.
Schools should be flexible during extreme weather conditions, for example allowing pupils to wear their PE kits in very hot weather, the proposals have suggested.
The guidance also says uniform policies should not dictate different items of clothing on the basis of sex or gender and puts more emphasis on "gender neutral" items of clothing.
Schools are urged to consider "flexibility" in relation to uniform "to meet the needs of a pupil who is undergoing gender reassignment".
Jackie Parker, head teacher at Crickhowell High School in Monmouthshire, said the plans for gender neutral uniforms was "very sensible".
"Our policy is that any student can wear a skirt or trousers, and we have had one young man who came in in a skirt one day and we said he looked very smart and he carried on and the next day he came in in trousers," she said.
"Generally the girls wear skirts and the boys wear trousers but I think gender neutral is sensible."
She added that having a school uniform was important.
"If you don't ask students to wear a uniform, it can be challenging for students who aren't well off," she said.
"If parents are in difficulty with uniform – sometimes you might have families with four children in the school – we can if necessary try and help them if they need some support."
Education Secretary Kirsty Williams said individual children should be allowed to decide what they wear to school based on what "promotes their wellbeing".
Parents, pupils and schools are now being invited to comment on the proposed guidance as part of a 12-week consultation.