MSPs call for action on Scottish teacher shortages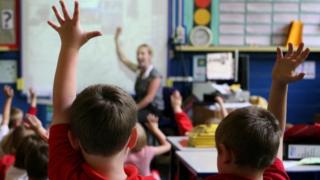 Holyrood's education committee has called for more action to tackle teacher shortages in Scottish schools.
MSPs have taken evidence from hundreds of teachers about the challenges facing the profession, amid warnings of "acute shortages" in some areas.
The committee made more than 30 recommendations, including calls for action over pay rates and a reduction in teacher workload.
The Scottish government said it would consider the report carefully.
Members have taken evidence from more than 650 teachers and trainees about workforce planning in the education sector, and have heard concerns about training courses and the "overwhelming" strain on existing staff.
This included evidence from a young teacher who said trainees were not being given sufficient training to teach maths to 11-year-olds, and one head teacher who was quitting the profession because she was "utterly exhausted".
The committee's report noted a "real risk" of an "increasing shortage in the numbers of head teachers in the future", and said there was "clearly scope in Scotland to improve workforce planning processes".
The Scottish government has announced governance reforms giving heads "sweeping new powers", including responsibility for closing the attainment gap, choosing school staff and deciding curriculum content.
MSPs stressed that any changes should not increase the workload on head teachers, recommending that education bosses go "back to the classroom" to better understand the pressure on heads in particular. They said that as new powers are introduced, the government should consider reducing other areas of work for heads to "ensure the introduction of reforms is manageable".
MSPs called on the Scottish government to review its practice of raising trainee places to improve teacher recruitment levels, saying it fails to address "fundamental" issues which deter people from going into the profession in the first place.
The committee want officials from Education Scotland and the Scottish Qualifications Authority (SQA) to shadow teachers in their work to gain a "deeper understanding of practical issues with some of the documentation they provide and the time required to teachers to complete the processes the SQA and Education Scotland set in place".
They also noted the frequency with which teachers mentioned pay levels during submissions, stressing the "need for a means to provide financial reward, recognition and increased status to experienced and valued teachers".
Other recommendations include:
education authorities to "prove that they understand the pressures on schools"
an independent analysis of the data required to inform national workforce planning
better opportunities for classroom teachers to seek promotion
a system similar to the axed chartered teacher scheme to offer extra payment to classroom teachers
flexibility for schools to offer financial incentives to attract teachers from elsewhere in the UK to areas with "particularly acute shortages"
education authorities to work together to maintain a level playing field and "avoid bidding wars for candidates"
the UK government to reconsider its approach to immigration and the post-study work visa to attract teachers and trainees from outside the UK
Committee convener James Dornan said it was clear teachers were dedicated and passionate about their profession, but said it was clear they had concerns.
The SNP MSP said: "Addressing the challenges facing existing teachers is fundamental to increasing the number of people who want to become a teacher.
"We are recommending reducing the 'box ticking' elements of their roles; providing financial reward and status for classroom teachers; providing more promotion opportunities and setting manageable workloads for head teachers."
'Shallow' response
The EIS teaching union accused the committee of a "trivial" response to some concerns.
General secretary Larry Flanagan said: "In places the report echoes current demands from the teacher unions – the need for better salaries and for enhanced careers pathways, but in other areas it seems disconnected from what is actually happening on schools."
"For example, the notion of practical placements in schools for SQA and Education Scotland staff may appear to have a superficial attraction but it is a shallow, and somewhat trivial, response to concerns about teacher workload and certainly no substitute for ensuring that teachers are able to exercise professional control over their working environment."
However, opposition politicians backed the recommendations of the report.
Scottish Labour's education spokesman Iain Gray said it served to highlight problems around teacher pay and workload.
He said: "Teachers are seeing their pay squeezed more and more as earnings rise slower than the cost of living, while workloads continue to increase. More than anything, we need to see proper investment in our schools. Scotland can have the best schools in the world – if the SNP government is prepared to use the powers of the Scottish Parliament to invest in them."
Governance reforms
The Scottish Greens said the key problem in Scottish education was financial, with MSP Ross Greer saying years of budget cuts had cut teacher numbers by thousands. He added: "The Scottish government need to get a handle on this, rather than pursue their unwanted governance reforms."
Scottish Lib Dem education spokesman Tavish Scott said Education Scotland should not be given any more power under government reforms.
He said: "Teachers say Education Scotland do not recognise the workload challenges in the classroom that are putting able people off the profession. Therefore, it is extraordinary that the Scottish government have rewarded this quango with more powers and influence over teachers in the governance review."
Education Secretary John Swinney said he would carefully consider the recommendations in the report, noting its "endorsement" of steps taken so far.
He said: "Investment by this government has directly resulted in 253 more teachers last year and this week I announced the expansion of our teacher recruitment campaign, the first phase of which has already led to thousands more undergraduate students seriously considering teaching as a career at some point in the future.
"I have already taken action to ensure teachers are free to do what they do best – teach.
"Our education governance reforms will put even more power into the hands of teachers and school leaders, and I will look closely at the committee's recommendations in this regard."