Jersey to consider paying students' tuition fees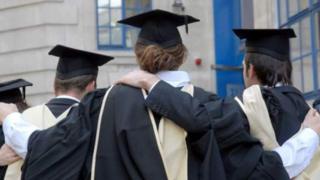 The "significant" rise in UK university costs is one of the reasons a British island is looking to increase its funding to students.
It comes as the prime minister has called for better value for students paying tuition fees in England.
Jersey's government said most of its students chose to study in "the most expensive place in Europe", the UK.
The island's chief minister said he did not want potential students to "worry about financing" university.
The plans – due to be debated in April – apply to first undergraduate degrees in Jersey, the UK, or with the Open University and for "recognised qualifications" at universities outside the UK.
Theresa May said scrapping fees altogether would push up taxes and mean returning to a limit on university places.
Labour has said it would abolish fees and bring back maintenance grants.
Jersey's government concluded more financial help would, in particular, reduce the burden on "lower to middle-income families."
It estimated the scheme would cost the island an extra £2.5m per year, and it is expected to cover 1,550 students in 2018.
What is Jersey's government proposing?
All students with a household income of less than £200,000 per year will be eligible for some form of grant
£9,250 tuition fees will be covered for all students with a household income of less than £109,999 per year
Students in households with an income between £110,000 and £200,000 a year will have a percentage of tuition fees paid, based on a sliding scale
Households with an annual income of more than £200,000 will not be eligible for any form of grant for students
Maintenance grants ranging from £1,500-£7,500 will be available for students in households earning up to £90,000
Families with assets over £0.5m will not be eligible for funding
Additional grants will be available for some courses with extra fees, for example medicine, veterinary and dentistry courses.
'Debt burden'
Means-tested funding for university tuition fees and living costs is already available across all three UK Crown Dependencies (Jersey, Guernsey and the Isle of Man).
Currently students in the Isle of Man have to contribute a minimum of £2,500 per year towards their tuition, whilst in Jersey at least £1,500 is required.
In Guernsey there is no minimum contribution.
A spokesman for the States of Jersey said a UK-style loan scheme was ruled out because of the "financial implications of the debt burden both for students, parents and for the States of Jersey".
In a speech earlier today Theresa May said a "competitive market" in which universities charged "variable" tuition fees had "simply not emerged".
The prime minister added "We now have one of the most expensive systems of university tuition in the world."
Announcing a year-long review into UK tuition fees she said the government would "examine how we can give people from disadvantaged backgrounds an equal chance to succeed.
"That includes how disadvantaged students and learners receive maintenance support, both from government and universities and colleges."