Closing disadvantage gap will take 'over a century'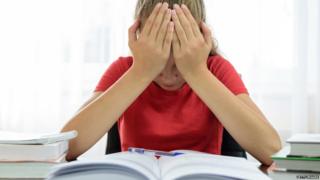 It will take over a century for the poorest pupils to catch up with their classmates at GCSE level in England if things stay as they are, a study says.
The Education Policy Institute report found little change since 2011 in what is known as the disadvantage gap.
When English and maths GCSE results are compared, the gap between those on the pupil premium and others shrunk by 0.1 of a month to 18 months in 2016-17.
In this study, the achievement gap is measured in months of achievement.
'50 year set-back'
The score for 2017 indicates children who have been eligible for the pupil premium – those whose families earn less than £16,000 or are on certain benefits – are about a year and a half behind their more financially stable peers in their achievements.
EPI researchers found the gap between these two groups of pupils was already at 4.3 months in the early years and had grown to 9.4 months by the end of primary school.
In secondary school, they based their study on GCSE results in English and maths, rather than a broader range of subjects, to mitigate against the affects of exam changes.
They said this was a more reliable indicator of the gap in recent years as GCSE entry patterns had been changing and had the potential to distort the results.
"In order to assess whether the gap is now closing faster or slower than previously, we have created a projection of how long it will take the GCSE English and maths gap to close based on the most recent five years of data," the report says.
Early support
"To put the latest year's reduction in the GCSE English and maths gap into context using our projections, if the gap had continued to close at the same rate as it did in the five years to 2016, we would have expected it to close entirely by 2103.
"But the slowing down in the five years to 2017 means that we would now expect it to close in 2155 – setting us back over 50 years.
"Based on current trends, it would take well over 100 years for the disadvantage gap in English and maths to close."
To tackle the situation, the report calls for equal access to high quality nurseries and childcare, a quality and stable teaching work force and a new priority on pupil wellbeing.
It also calls for "early and sustained additional support for those who need it".