WPP should come clean over Sorrell exit, Vince Cable says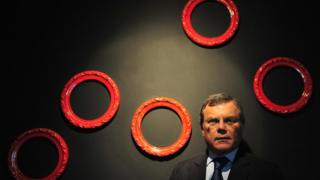 Liberal Democrat leader Sir Vince Cable says new claims about Sir Martin Sorrell mean WPP must come clean over his exit from the advertising giant.
It follows reports a WPP inquiry into Sir Martin – once Britain's highest paid FTSE 100 chief executive – probed allegations involving a sex worker.
Sir Martin strongly denies the claim, but the conclusions of the internal inquiry have not been published.
Sir Vince said the secrecy was damaging the City and fostering wild rumours.
"It is clear that WPP must publish the report into Sorrell's departure, if for no other reason than to stop any more rumours," Sir Vince said.
"Shareholders should not be kept in the dark. We're in danger of returning to the City's worst pre-financial crisis practices. WPP and Sorrell can help prevent a return to that damaging environment that by putting NDAs (non-disclosure agreements) and secrecy to one side."
His comments come ahead of WPP's annual shareholder meeting on Wednesday where questions are expected to be raised about Sir Martin's resignation in April.
News earlier this year that the world's largest advertising company had called in lawyers to investigate alleged misconduct by Sir Martin sparked a flurry of speculation about use of company money and assets.
Sir Martin resigned from WPP after 30 years at the helm, and has now set up a new advertising agency. WPP said the inquiry had concluded, but it could not release the details because of data protection issues.
But over the weekend, it was alleged in the Wall Street Journal that the probe looked into whether he used company cash to pay for a sex worker.
Sir Martin's spokesman "strenuously" denied the claims, but said there was "a non-disclosure agreement when he stepped down which precludes him from discussing any of the circumstances surrounding his departure.
"He has rigidly adhered to this obligation and will continue to do so. As regards the allegations which have appeared in the Wall Street Journal, Sir Martin strenuously denies them. He will be making no further comment at this time."
WPP says it cannot disclose the conclusions of its inquiry because of data privacy laws. The UK Information Commissioner's Office told the BBC that "without the full facts" it was impossible to say if this was the correct judgement.
The lack of information is expected to be raised at Wednesday's annual meeting. Two shareholders advisory groups, Glass Lewis and Pirc, have criticised the lack of transparency, and urged investors to vote against resolutions at the meeting.
Glass Lewis has said that without more information from WPP, shareholders were unable to determine whether Sir Martin was a "good leaver", adding that it had "severe reservations" about the firm's pay plans, given the lack of disclosure.
Sir Martin is in line to receive £14m from WPP, having received £48.1m the year before. He will receive further payments over the next five years as part of his exit deal.
Pirc noted in a report that under his contract, Sir Martin would "not have been entitled to any further payment if he had engaged in conduct that constitutes wilful gross neglect or wilful gross misconduct".