UK shares slip amid market volatility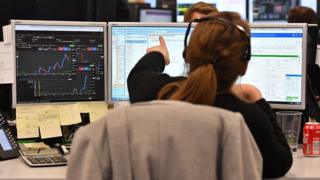 UK shares opened lower on Friday, but the declines were not as big as those seen in Asia and the US.
The benchmark FTSE 100 share index fell 35.51 points, or 0.5%, to 7,135.18.
The falls follow heavy losses on Asian markets overnight, with Japan's Nikkei 225 index down 2.3% and China's Shanghai Composite slumping 4.1%.
On Thursday, US shares saw another day of steep falls and the Dow Jones fell by more than 1,000 points for the second time this week.
The Dow Jones ended 4.2% lower at 23,860, while the wider S&P 500 index closed down 3.8%.
Thursday's declines mean the Dow and S&P 500 have now fallen by more than 10% from the record highs set in January, a threshold that analysts call a correction.
Why are markets falling?
Sell-offs around the world have been pinned partly on concerns over higher interest rates.
The global sell-off began last week after a solid US jobs report fuelled expectations that the Federal Reserve would need to raise interest rates faster than expected, because of the strength of the economy.
That concern has prompted the pullback from stocks.
On Thursday, the Bank of England seemed to offer support for the view that rates in general are on an upward path.
The Bank left interest rates at 0.5% at its meeting, but said a strengthening economy meant interest rates were likely to rise sooner than the markets were expecting.
Also worrying investors was a government budget proposal announced by US lawmakers, which raises spending caps and could fan inflation.
Bond yields in the US have also risen in recent weeks, typically a signal of higher rates.
Higher interest rates push up borrowing costs for companies and individuals, which can hurt corporate profits and curb economic activity.
At the same time, higher interest rates can make investment alternatives to stocks, such as bonds, more attractive.