Saudi Arabia has called off Aramco float, report suggests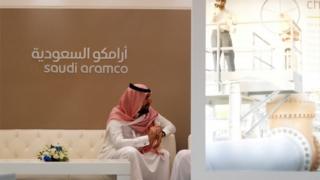 Saudi Arabia is reported to have called off the listing of state oil giant Aramco, which was set to be the biggest ever flotation of shares.
Reuters quotes industry sources saying the group of financial advisers working on the plan to sell 5% of the company has been disbanded.
The wire service quoted a source suggesting the decision was taken some time ago but is not being announced.
Neither Saudi Aramco nor the Saudi Royal Court has commented on the story.
Mohammed bin Salman, Saudi Arabia's Crown Prince had proposed the share sale as part of his economic reform agenda, bringing western regulation and scrutiny to the company.
Rumours emerged last autumn that the flotation might be cancelled.
It was thought then that the government might instead sell Aramco shares privately to the world's biggest sovereign wealth funds and institutional investors.
Both New York and London have vied to host the listing, which was expected to be the biggest flotation in history and would have valued Aramco at around $2 trillion (£1.55 tn).