Provident Financial issues new profit warning as boss quits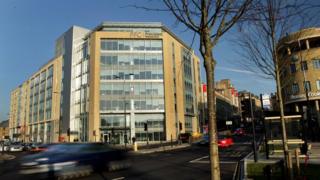 Doorstep lender Provident Financial has issued its second profit warning in months.
It says it now expects to make losses of £80m to £120m as its debt collection rates have dropped to 57% compared with a previous rate of 90% in 2016.
Bradford-based Provident recently changed the way it collected its loans, replacing self-employed agents with "customer experience managers".
Its chief executive, Peter Crooke, has resigned.
Agent loss
Provident had already flagged up problems with its new system in June.
Then, Provident said the new agent system, which replaced the self-employed debt collectors with ones employed by the company, had not had enough applications from existing agents.
It had also been less effective at collecting money and selling new loans, and a greater number of agents than normal had left.
It said then it expected profits to be £60m at its consumer credit division.
'Very disappointed'
The company is undertaking "a thorough and rapid review of home credit's performance", and will not now pay the interim dividend it promised just a month ago.
Its other divisions – Vanquis Bank, sub-prime car loan business Moneybarn and consumer credit brand Satsuma – are trading in line with plans, it says.
However, Vanquis has been under investigation by watchdog the Financial Conduct Authority, which had concerns about one of its products.
The company agreed to suspend all sales and is awaiting the outcome of that probe.
Manjit Wolstenholme, executive chairman who will also now act as chief executive, said: "I am very disappointed to have to announce the rapid deterioration in the outlook for the home credit business."
She added that there was unlikely to be a full year dividend payout.