Mothercare to close 60 outlets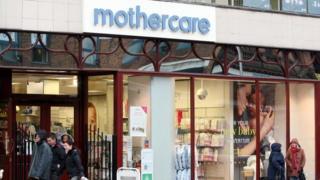 Struggling mother and baby products retailer Mothercare says it will shut 60 stores by June 2019, instead of the 50 previously earmarked for closure.
The extra closures mainly come from its Childrens World division, which will go into administration.
The closures will put 900 jobs at risk, up from the 800 previously stated.
Mothercare also confirmed that it would be raising another £32.5m from its existing shareholders by issuing new shares.
Although Childrens World is being wound up, 13 of its 22 stores, mainly in out-of-town locations, will transfer to other Mothercare group companies and stay open.
The company has not yet given details about which stores will stay open.
Mothercare's chief executive, Mark Newton-Jones, told the Today programme that its UK business had suffered from a lack of investment and "hadn't had a lick of paint" in recent years.
However, its rescue plan would now allow it to modernise as a retailer.
He said: "We will really be able to speed up the transformation, and by God we need to speed up the transformation, because the retail landscape is pretty brutal at the moment."
Mr Newton-Jones added that Mothercare had "grown prolifically" outside the UK, with two-thirds of the retailer's turnover now coming from overseas.
The restructuring of Mothercare comes after creditors backed a company voluntary arrangement (CVA), which allows companies to shut loss-making shops and reduce rents.
However, the plans for Childrens World were not approved by the necessary 75% majority, prompting the decision to close the division down.